Aso Rock Staff Disappointed After Meeting With Buhari Failed To Address Welfare Concerns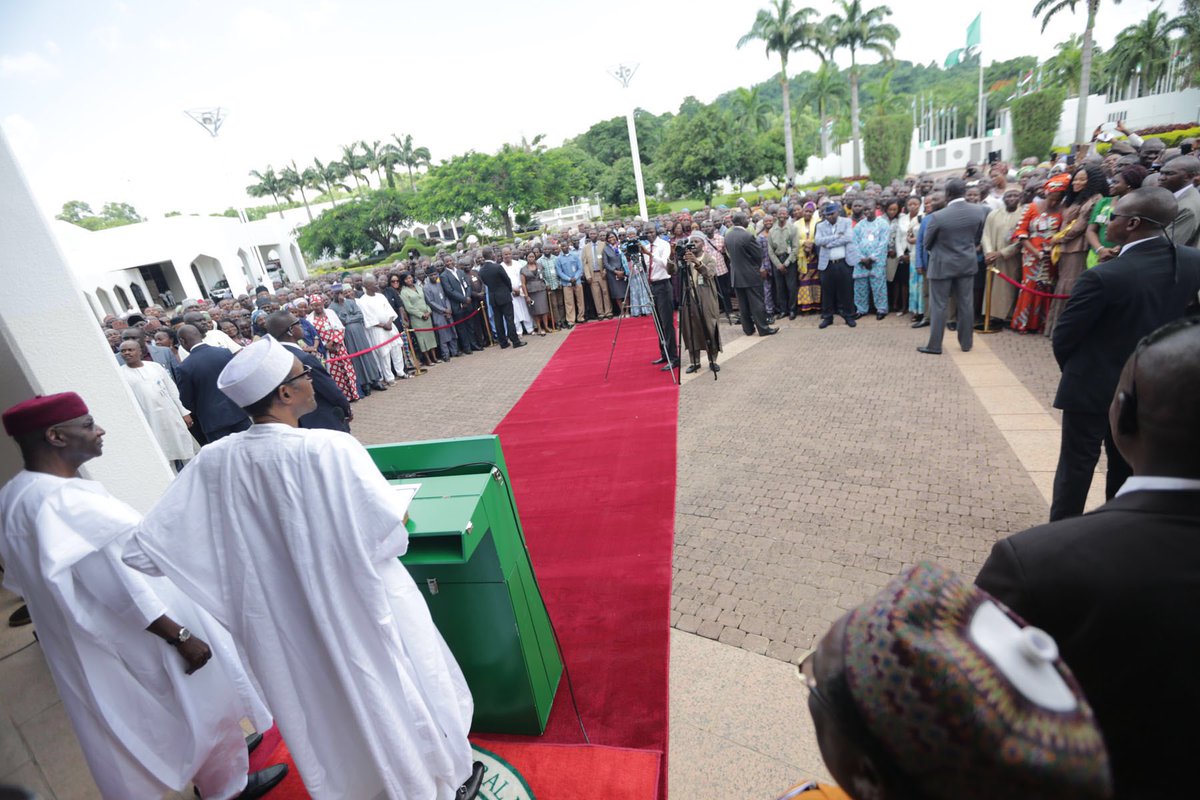 Estimated Reading Time: <1
Aso Rock staff got a circular on Wednesday morning directing them to attend an "emergency meeting" with President Muhammadu Buhari, they were thrilled.
Many of them thought it was going to be a meeting that will finally address burning welfare issues with the president seeing as the workers had been complaining they've not been paid for a year now according to this report.
the government of the day had refused to pay them for over one year now.
Indeed, many of them were glad they would see him closely for the first time in their lives.
They were conveyed to the fore court of the president's office in Coaster buses.
"You can then imagine our shock when the State House permanent secretary (Jalal Arbi), who led us to the meeting, told the president we only came to welcome him back from his medical trip," one of the workers told TheCable.
Femi Adesina, presidential spokesman, had said staff from 12 departments of State House came to bid Buhari a "warm welcome".
But a staff who spoke to NewsWireNGR said "No one was able to talk about our pay, they seem not to care as the President was on about anti-corruption and what not, we are not asking for what is not ours, we want to be paid. "Is that corruption too"?.
The staff  who does not want his name mentioned continued, "They all stood they acting like all is well, we've been complaining to pressmen for a while now about our wages but the President's address was a dissapointment as he failed to address the real issue bordering us"
Adesina, the President's spokesman then invited the permanent secretary to speak during the meeting.
Arbi said: "This is the congregation of your children privileged to work in the Villa. We have gathered to welcome you and reassure you of our commitment to integrity, accountability and most importantly fear of God. We pray God to continue strengthen you and give you peace of mind and tranquility to govern."?
The bewildered staff ?could not believe it when they were not given allowed to ask any questions or make any comments.
Before now, Vanguard enquiries revealed that President Mohammadu Buhari had directed the office of the National Security Adviser, NSA to evolve a comprehensive welfare package plan that would ensure transparency and accountability.
A top presidential source which craved anonymity pleaded with the staff to be patient with the committee set up by the the National Security Adviser (NSA) to the president retired Major General Babagana Munguno on the directives of President Muhammadu Buhari to submit its report.
"We want to do it and do it well so that those who are supposed to be paid X and X amount of money get what is due. It takes time but we want to do it in such a way that even after President Muhammadu Buhari's government, the system will continue.
"I plead with all staffers to be patient with Mr. President so that the good work been done by the NSA on the directives of the president for a better welfare for staff will soon take effect," the source said.
So for many, the meeting with the President was to put to rest the concerns about their pay but when it came to the turn of the President to speak to the workers, read whats he said below..
Buhari said his government will not go after anybody who does not steal public funds.
He said that his administration's ongoing war against corruption would be vigorously sustained to rid the country of the debilitating effects of the wanton looting of public funds in past years.
He assured them that he would continue to lead the country with patriotic zeal, integrity, dedication and commitment to improving the living conditions of ordinary Nigerians.
"I have never in my life believed in corruption. If we make any mistake in what we are doing and compromise our integrity, the country will be further dragged back," he said.
"We'll not touch anybody that did not touch public funds. If you behave yourself, you will sleep soundly; your children and families will enjoy respect.
"But if you have short-changed the treasury, you will be caught and you'll have your day in court."
Buhari thanked the staff for their service to the nation and urged them to remain patriotic and eschew corruption in the discharge of their duties.
"I'm asking you to re-dedicate yourself to your country. As I said thirty years ago we have no other country than Nigeria. We are determined to rehabilitate the country for coming generations," he said.
"The process of change is not easy but with your dedication, we can deal successfully with the issues that currently confront us."