Muslim Clerics Storm Schools In Osun To Enforce Use of Hijab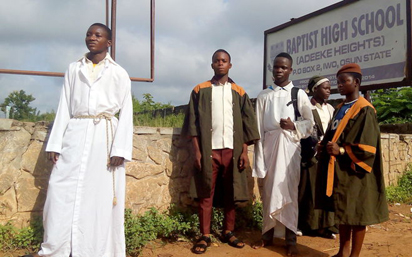 Estimated Reading Time: <1
The agitation for the enforcement of the use of hijab by Muslim female students of public schools in Osun State spread to other cities in the state as some Muslim clerics yesterday morning, trooped to St. Charles High School and Ife-Oluwa Middle School, both in Osogbo to enforce the June 3, 2016 court judgement.
It was gathered that the clerics, who led other Muslim followers moved round the schools at about 8 am to ensure that the management of the schools comply with the court judgement.
Meantime, the state governor, Rauf Aregbesola, yesterday disclosed that neither his government nor himself ever ordered the use of Hijab by female Muslim students in public schools in the state.
Are gbesola stated this at the roundtable on Development Collaborative Framework for Education Development and Advancement organised by the Development and Advancement in Western Nigeria, DAWN, in Osogbo.
He challenged those who accused him of ordering the use of hijab by Muslims in schools to bring concrete prove to substantiate their mischievous claims.
The governor asked those accusing him of plunging the state into religious crisis to the present a video or voice recording, written speech evidencing where he commanded or ordered female Muslim students to wear hijab on their uniform.