In Edo State, Godwin Obaseki Emerges APC Governorship Candidate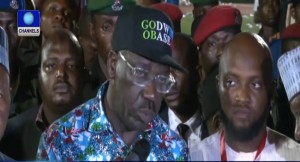 Mr Godwin Obaseki has picked the All Progressives Congress (APC) governorship ticket after beating 11 other candidates during the primaries in Benin City, Edo State.
The leader of the party's national delegation that conducted the primary election and Katsina State Governor, Aminu Masari, announced the results in Benin, the state capital.
Mr. Masari said Mr. Obaseki scored 1,618 votes to defeat his 11 opponents.
Other aspirants are Deputy Governor Pius Odubu, who polled 471 votes; former Minister of State for Works, Chris Ogiemwonyi, 137 votes; Ken Imasuagbon, 247 votes; a former governor of the state, Osariemen Osunbor, eight votes and Ebegue Amadasu, who also polled eight votes.
Similarly, Charles Airhiabvere, a retired major general, garnered 11 votes; Emmanuel Arigbe-Osula, 10 votes; Austin Emuan, seven votes; Blessing Agbomhere, fives votes, and the only female aspirant, Tina Agbarha, three votes.
The APC held its primary election in Edo State, with 12 aspirants from 18 local governments jostling for the top job.
A total of 2,771 delegates made it to the Samuel Ogbemudia Stadium, Benin City, which is venue of the primary.