"I Told Tinubu That Buhari Would Fail" – MUST READ Cardinal Okogie's Interview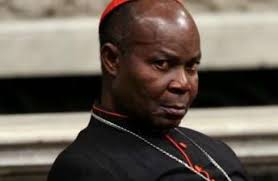 Cardinal Anthony Olubunmi Okogie, a retired Catholic Archbishop of Lagos is a man famous for his stand for the truth, even in the face oppression.
Okogie celebrated his 80th birthday on Thursday, June 16 as well as his 50th year of ordination as a priest.
In commemoration of his double celebration, he spoke on several issues including the state of the nation, his fight for the truth, President Muhammadu Buhari among other things.
Read what he said below.
"I know how Buhari came in. I warned Tinubu seriously when they were debating about Muslim, Muslim ticket. I told him, 'Bola, I do not care if you produce two devils or Muslims provided the two Muslims are patriotic and fear God'."
"He said his main concern which was giving him sleepless night was to drive the PDP away and that he had got the solution. Tinubu asked me if I knew Buhari and I replied that was he not that man that did examination three times and failed? I said 'Bola, he will fail again' but he replied that he will not fail because he had gone round and that politics is a game of numbers."
"He said if Buhari was dying tomorrow and he went to the North to present him as candidate, he was sure to get over two million votes. He was even boasting that Buhari had changed or that they will change him."
"As I said earlier, the real problem with the Buhari administration is that this one will bring his candidate notwithstanding if such person can perform or not, and another will bring his. He should change three quarters of the ministers. They did not know where they are going, that is the problem."
"Lai Muhammed challenged me on a write up that I wrote tagged 'Enough is enough'. He came to my house one Sunday night with Chief Jim Nwobodo and said I should have asked for audience with the Head of State and he would have granted me such instead of writing such article."
"I asked him to tell me what was wrong with the article that I wrote and that if not for Alhaji Bola Tinubu, he will not be where he is now. He replied that he has been together with Tinubu right from his youthful days."
The Cardinal said, "It is the responsibility of government everywhere in the world to provide the enabling environment for the citizens to eke a living."
"In the case of my country Nigeria, it appears the reverse is the case. The poor masses are left to roam about without proper guidance; and so majority continue to wallop in penury in the midst of plenty. So much have been said and written about the 16 years misrule of the People's Democratic Party."
"Many more policy analysts will readily tell you that the problem with Nigeria originated right from independence in 1960. Be that as it may, the swearing-in of President Muhammadu Buhari last year was perceived as a milestone in the people's quest for positive change and improvement in their quality of life. But a year later, the people are still grumbling. Indeed, the hardship has doubled. Thousands of workers are being laid off every day; the value of the naira is falling while states are owing workers months of unpaid salaries."
"Buhari may mean well for the country, but so far, his actions and utterances have failed to help put food on the table of the average Nigerian. So, my advice to Mr. President and his associates is this: do not take the goodwill that you enjoy from Nigerians for granted. Do all that is necessary to revamp the economy before things get out of hand."
 He also spoke on the use of force against Niger Delta Avengers is not the best solution
"For the years that the late Musa Yar'Adua and his successor, Goodluck Jonathan, held sway, we saw drastic reduction in the activities of militants in the Niger Delta. Unfortunately, the militants are now back to the trenches under different pseudonyms. Their recent attacks on oil facilities in the region are daily crippling the country's capacity to produce oil. The oil and gas pipelines bombed in Warri West Local Government Area have also worsened electricity generation plan of government. How long would this continue?"
"One thing is certain. Ours is a mono-economy that relies solely on oil for our foreign exchange earnings. With the sorry state of our economy, we cannot at this crucial time afford the stalling of oil production in the Niger Delta. That would further put the country's finances in a precarious situation. I am aware that the Niger Delta Avengers have reeled out a number of conditions to be met before they can agree on a ceasefire. I am equally aware that President Buhari has vowed to deal decisively with the militants.
"Only few days ago, the dailies reported that the military invaded Gbaramatu Kingdom believed to be the hometown of a wanted ex-militant, Tompolo. While condemning the disruption of our oil facilities under any guise, I equally want to stress that the use of military force is not the best solution."
"It would only aggravate the situation. I therefore want to plead with President Buhari to consider dialogue as a major option to end the crisis. Considering the high casualty rate and huge losses so far expended in our on-going fight against Boko Haram, it would not be out of place to settle the Niger-Delta issue without wasting human lives. Equally, I want to plead with the aggrieved militants to please sheathe their swords and allow for mediation."