Chance of Buhari's Healing "May Be Slim". – Father Mbaka Claims To Have Seen Nigeria's Pres. In A Vision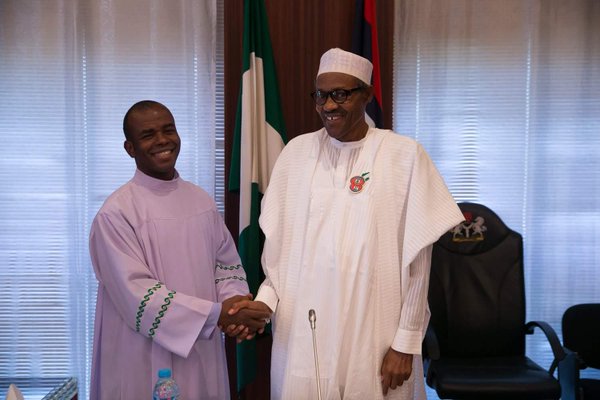 Estimated Reading Time: <1
Controversial Roman Catholic priest, Father Mbaka has disclosed to his Adoration Ministry congregation that God has revealed a vision of President Muhammadu Buhari's illness and that the chance of Buhari's healing "may be slim".
Reverend Father Ejike ?Mbaka who made the revelationin one of his miracle ministries programmes in Enugu, stated that several efforts he made to reach people close to Buhari over the vision had remained unsuccessful as they refused picking his calls.
During the 2015 presidential election, Father Mbaka had also complained of how he was denied access to former President Goodluck Jonathan. The priest had endorsed former President Goodluck Jonathan for re-election late 2014 saying that "he had done well.
According to Father Mbaka, in the vision, President Buhari was critically sick and was being flown abroad for treatment.
"His health was in a bad shape and he was asking that (Father Mbaka) should pray for him. None among the people I have called, picked my calls.
"People think I speak with Buhari everyday. When people climb into power, they are dazed. It is a long dream. Our job is to pray for him but there are things that he must do and there is no way to communicate it to him", Father Mbaka said.
He, therefore, asked the congregation to stand up and lift their hands up as he began to pray for the health and healing of President Buhari.
The prayer went thus: "We call on Michael the arch angel, Uriel the archangel, Gabriel the archangel to carry you in their wings back to life. They angels are bringing you back in their wings. In Psalm 79:11 the Lord restores those who have already being appointed to die. Are you the one that has been appointed to die? God himself will bring you back to life. Remember His word that when the thief comes to steal, kill you and destroy you, I have come that you may have life and have it more abundantly. Have life now more abundantly in Jesus name Amen.
"We pray for our president and anyone that is suffering such a dangerous disease. We lift our healing hands for divine healing upon our president. Wherever he is, may he be healed in Jesus name Amen.
"The doctors in Nigeria are nursing fear that he may not survive but we have a healing God. His name is specialist in impossibilities. In Mathew 19:26, He can make the impossible, possible. In Mark 10:27 He can make the impossible, possible. In Luke 1:37, He can make the impossible, possible. In Jeremiah 32:17, He can make the impossible, possible. In Job 42:2, He can do all things and no purpose of His can be thwarted. Hallelujah.
"We stretch our hands of healing upon our President and you that may be sick here. I take you as somebody who is as if to say he is dead already. Have they said that you are dead and there is nothing that can be done in your situation? Have your kidney died? Have your liver died? Have your heart or any organ of your body been confirmed dead? Look at what happened in John 11:39. When Jesus asked them to open the tomb of Lazarus, they told him that by now he must be smelling for he was dead for about four days now. After all this, I heard Jesus talking in verse 43 telling Lazarus to come out. Let that thing that is dead come back to life in Jesus name Amen. Let your dead vision come back to life. Let your dead destiny come back to life. Let your dead passion come back to life in Jesus name Amen.
"Whatever is dead in your body should come back to life in Jesus name Amen. Your dead success, come back to life. Your dead business, come back to life. Your dead vocation, come back to life. Your dead gifts come back to life. God will show you the path to life.
"We stand in in Psalm 110:1 where the Lord said to my lord to sit at His right hand and I decree that You shall be the child of the right hand of God of Psalm 17:7, Psalm 31:15, psalm 31:5 and psalm 98:1.
"In the book of Mathew 27 the Bible says that when the blood Jesus dropped and he cried with a loud voice, the veils were torn. As this was happening the tombs opened. I stand in Matthew 27 and minister in verse 53 and 54. When the tomb opened, those who were dead in the tomb came back to life and move about the city. This was because the blood of Jesus dropped on the ground.
"As the blood of Jesus drops on the ground now, anybody here who has been killed and buried in the spirit and is just a moving corpse, let him or her come back to life now in Jesus name Amen. Let your spirit come back to life in Jesus name Amen. Is there any good thing or virtue in our country that has died or occultically being held bounds? I send the Holy Ghost fire upon every temple of Satan that is accommodating any name of the Child of God in Jesus name; Holy Ghost fire. Holy Ghost Fire!!!"
While concluding the prayer, he said "I want the enemies to see our President shining, prospering and moving majestically in glory. The chances of his healing may be little but now with our prayers and faith, the chances of his coming out is high.
"The spiritual energy with which we make this prayer is enormous that it shall do this for us. If you are ready for testimony, my God is ready with miracles."
Nigerians are expecting the President, who has been away on a medical vacation, back to the country, tomorrow (Sunday).