Olusegun Mimiko To Speak At Chatham House London Conference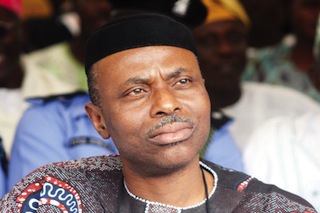 Estimated Reading Time: <1
Ondo State Governor, Dr Olusegun Mimiko, will today, Thursday 16th June, speak at the 2016 Chatham House London Conference.
Mimiko will speak at a break-out session on "Healthcare For All: From Aspiration to Implementation"
According to the Royal Institute of International Affairs, Chatham House, over 60 speakers who come from highest levels of the business, policy and academic worlds will feature at this year's London Conference. Among these notable figures are Harmid Karzai, 12th President of Afghanistan, Robert Yates, Project Director, UHC Policy Forum, Global Health Security.
Full list of Speakers can be found here https://www.chathamhouse.org/london-conference/speakers
The Ondo Governor is widely and famously celebrated for his healthcare policies on Mother and Child Health known as Abiye SafeMotherhood and "Agbebiye" which have earned him numerous accolades and adopted by global institutions as templates for solving infant and maternal mortality in the developing world.
He is accompanied by one aide, his Chief Press Secretary, and will return on Friday, 17th June.