Reuben Abati: The National Brain In Recession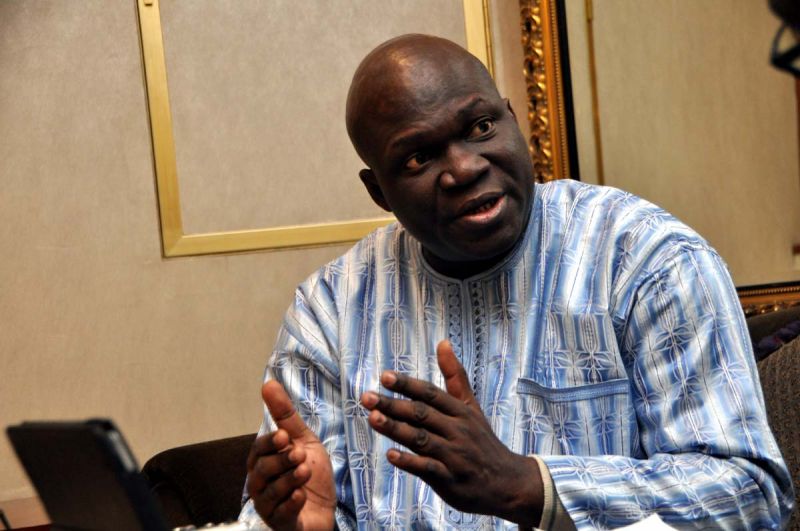 Estimated Reading Time: <1
"Have you eaten today? If not, let me show you this new restaurant. Good food, the service girls specially attractive, the Madam herself is quite friendly."
"What are you proposing: the food, the service girls or the Madam? Sorry to disappoint you, I am fasting."
"When did you become a Muslim?"
"Is it only Muslims that fast? Fasting is good for everyone's spirit and system."
"Forget about that. Come and have a good bite. I am the one paying anyway, so what's your problem?"
"This man, are you living in Mars? You mean you don't know that this is Ramadan and that some people have made it risky for non-Muslims to go and eat? I don't want to risk my life. Even when you are not fasting or you are a Christian, the best thing to say during this season is to insist that you are also fasting."
"This is Nigeria, man. I know many Muslims who are not fasting."
"This is Nigeria, man. Do you know a Nigerian called Francis Emmanuel?"
"Why should I know him? Does he or she know me?"
"He"
"So?"
"He is in hospital right now as we speak somewhere in Kaduna. He was butchered by some angry Muslim youths in broad daylight for daring to eat at 2.30 pm during Ramadan. He has cuts all over his body and he almost lost one of his eyes."
"But the man is a Christian. He bears the name of a saint and the name of the Messiah"
"Yes, the man told his assailants he is a Christian, but they wouldn't listen. The way things are, it is better not to take chances. I am a Muslim for a purpose. . You won't find me eating or drinking in public. What if they start attacking restaurants and drinking joints?"
"This is a secular country. The Constitution guarantees the freedoms of choice, thought, and association."
"Clap for yourself"
"But you are not in Kaduna. You are in a cosmopolitan city."
"Kaduna is also a cosmopolitan city. And if you must know, in France just yesterday, a waitress was slapped by radical Muslims for serving alcohol during Ramadan in a restaurant, and France is supposed to be the country of libertey, equalitey and fraternitey!"
"Nobody will force you to fast here and those boys who beat up Francis Emmanuel, are you sure they are Muslims? They are most likely hiding under the banner of religion to settle some scores. Are you sure there is no aggrieved lover involved or a quarrel over a debt or something?"
"You have started. Even when something is so clear, you'd start shading it. If that was the issue why would the state Governor visit the man in hospital to console him. Stop twisting things. I am not going to any joint to eat or drink during. If I must eat or drink, I will hide inside my room."
"Stop being funny."
"I am being funny hen? Have you heard of a woman called Bridget Agbahime?"
"No"
"You obviously don't pay attention to what is going on in this country."
"You can't blame me. I have too many personal issues to sort out. They have not paid our salary and I haven't paid the children's school fees, the company is threatening to retrench anybody that talks about salary, my wife is saying I should try and be a man, and stop being a body without engine, when even government is not paying anybody."
"Hold on. Just hold on. Bridget Agbahime was murdered in Kano about a week ago. Clobbered to death. She was accused of blasphemy by irate Muslim youths."
"The spirit of Boko Haram at work. But those are not Muslims. Those who kill in the name of religion are criminals and they must be brought to book. But I was already talking about my own issues, if you will just let me finish…"
"Wait. Has anyone been brought to book? Those who should enforce the law simply look the other way. That is the problem today."
"There must be something else to it, it is something at the root of the disunity in Nigeria. One psychiatrist told me that when a country is in depression and in recession, the people's brain also go on recession."
"To the extent that people will start killing?"
"Nigerians have always killed one another. The depression and the recession didn't start today. It started from the point of independence. It has only grown worse. What baffles me is that people are committing sin whereas no one should commit sin during the month of Ramadan. It is the Holy Month. The Prophet (SAW) tells us "fasting is a shield. Let no one of you during his fasting day – behave in an obscene manner or become angry. If anybody abuses or fights with him, let him say: I am fasting".
"Go and repeat that in Kano and Kaduna. Go and say that to the people who killed Bridget Aghahime who attacked Francis Emmanuel, and who burnt down churches."
"The Prophet (SAW) also tells us that "whoever does not refrain from falsehood in sayings and deeds and acts of ignorance, Allah has no need of his abstention from food and drink." That's why I am bringing up my own matter. This is the best time to ask for financial help. If the spirit of Ramadan is in you, you will help me."
"You should go and tell them that in Abuja, where government officials tell lies as a matter of policy, and yet, many of them are Muslims and they will claim they are fasting."
"Religious corruption is as bad as political kwaraption, I know. But people who are ill, travelling or old don't even have to fast, according to the doctrine."
"Then, let's deal with that."
"But, I can make a case for government officials."
"How?"
"Government officials have a duty to give the people hope all the time. They have a duty to prevent unnecessary news that can deepen public despair in the face of mistrust and depression. Too much truth can sometimes ruin public faith."
"No. This is a democracy. The people have a right to know everything."
"You must balance that with the people's need to know. Do they need to know? Who for example has been helped by the information about President Buhari having ear infection and needing the services of offshore ENT specialists? You don't create bad news unless it is really bad."
" I hear it is bad."
"Every Nigerian has suddenly become an ear specialist, every carpenter has become an emergency doctor; very soon pastors, herbalists and imams will claim they have a cure for the ear, and political opportunists are already talking to the acting President, there is panic about town."
"I don't understand. You are saying we don't have a right to know?"
"I am saying it would have been enough to just tell Nigerians that the President was proceeding on vacation. You don't load a depressed populace with bad news, unless the news is really bad. A President can become lame duck in the eyes of the public for two reasons: if he is sick and incapacitated, or he is at the end of his term. You can't project likely incapacitation as a communication strategy. That is stupid. They have just projected this President as lame duck. "
"But the President himself said he is sick."
"All political leaders want to be loved by the people. They seek sympathy the same way the body seeks oxygen. But they must be protected from violent headwinds. Getting them to see those headwinds is the problem."
"So what are you saying?"
"I am already thinking of something else, really. I am thinking of how on earth a Federal Minister will threaten to de-licence banks if they continue to sack their staff. So dumb."
"I even hear that the Governor of the Central Bank is likely to have a meeting with Bank MDs. Is it the duty of government to run private businesses, to command and control the private sector, to dictate to businesses that have boards with fiduciary responsibilities?"
"It is all part of giving people hope. It is the art of spin."
"And I am saying deception cannot be a governance strategy. Companies hold the right to hire and fire, to determine what is in the best interest of the business, and take staffing decisions. What is it about a Minister trying to run all Nigerian businesses? It is not only banks that are sacking staff by the way. The entire economy is convulsing. "
"Change. All Promises Cancelled. My only fear is that one of these days they won't attack home economics and just decree that government will start withdrawing marriage licences. And God knows, many Nigerian husbands are in trouble, with the way my own wife is now sounding, I just have faith that there is God. I just pray they won't withdraw the children too, but if they must, they must feed them and pay their school fees."
"This thing called change."
"One of my friends in fact, had to declare to the wife that there will no longer be business class travels, dry cleaning services, generator running on expensive diesel for almost 24 hours, and definitely no more financial requests from her family, until further notice. The woman raised a storm."
"I hope that marriage will be intact by 2019."
"I hope and pray Nigeria will still be intact. With the madness in the Niger Delta, and those avengers insisting they don't want any dialogue with the same people who had threatened to deal with them, crush them, level the Niger Delta, I am afraid."
"But I hear governors of the South South, with the exception of the Governors of Edo and Cross River have owned up. They say once President Buhari stops fighting corruption there will be peace."
"You are really sure about that? Will any elected Governor say something that dumb? And place it on record?"
"That's what I heard"
"And you don't have ear infection? Who said it: At an open or closed meeting? But if true, then, we are really in trouble."
"I believe they said it because they have not denied it."
"God, what a country! The national brain is in recession. And recession produces cognitive decline."
"Please, say something positive. Remember Stephen Keshi"
"May the Almighty grant his free soul, peaceful repose"
________________________________
Article written by Reuben Abati
Disclaimer
It is the policy of NewsWireNGR not to endorse or oppose any opinion expressed by a User or Content provided by a User, Contributor, or other independent party. Opinion pieces and contributions are the opinions of the writers only and do not represent the opinions of NewsWireNGR.