IG Of Police Explains Why The Police Had To Takeover The PDP National Headquarters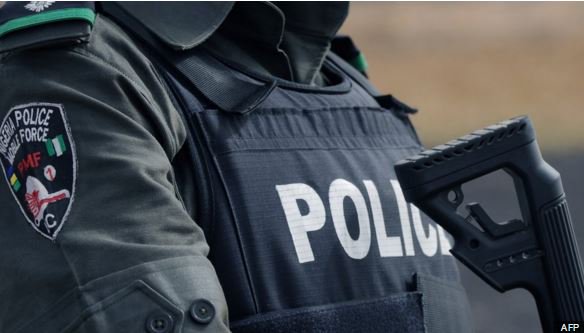 Nigeria's Inspector general of Police, Solomon Arase has explained why scores of armed policemen occupied the Abuja headquarters of the opposition Peoples Democratic Party.
In a statement released by Force PRO, Kolawole Olabisi, the police said their action was meant to thwart the plan by a faction of the PDP to cause mayhem in the capital, by orchestrating street demonstrations, using political thugs and also attacking the Wadata House headquarters of the party.
The PDP held two parallel conventions on Saturday, one in Abuja and the other in Port Harcourt. The Port Harcourt convention sacked all the party's executive and national working committee members and the chairman, Senator Ali Modu Sheriff.
In their place, it appointed a caretaker committee to steer its affairs until the party's next convention. The convention held despite the announcement by the sacked chairman,that it should be postponed in view of the several court orders restraining it from electing principal officers.
In Abuja, the Professor Jerry Gana led PDP group also held a convention which constituted a 57 man steering committee, with Senator Ibrahim Mantu appointed as coordinator.
It remains to be seen how the party would reconcile the conflicting tendencies in its fold and forge some peace, before the police suddenly moved to secure the Wadata House.
Here is the full police statement:
"Intelligence at the disposal of the Force leadership indicates that some aggrieved factional leaders and members of the Peoples' Democratic Party (PDP) have perfected plans to engage thugs from across the country to join them in threatening public peace and security in Abuja. This is sequel to the on-going intra-party leadership crisis in the party and further fallout of the recent political engagements of the Party.
"The plan of the brains behind this development is to infiltrate Abuja and attack the National Headquarters of the Peoples' Democratic Party with intent to forcefully occupy the facility. Towards perfecting this criminality, credible Police sources confirm that the actors will mobilise into Abuja with effect from Monday 23rd May 2016 and they intend to march through major streets in Abuja before proceeding to the PDP Secretariat to manifest their intention.
"Consequently, the Inspector-General of Police has directed the deployment of Police assets to secure the PDP Secretariat and protect the staff until the threat to internal security that is being occasioned by the intra-party crisis within the PDP is stabilised. The police action is a proactive initiative which is being emplaced in furtherance to the statutory Mandate of the Nigeria Police to prevent breakdown in law and order and protect lives and property.
" The Inspector General of Police, however, warns all actors in the crisis as well as their loyalists to refrain from any act that may threaten public order as the Police shall deal promptly, firmly and decisively with such persons or group in line with their legal obligations."