Buhari Directs Army To Deal With Niger Delta Avengers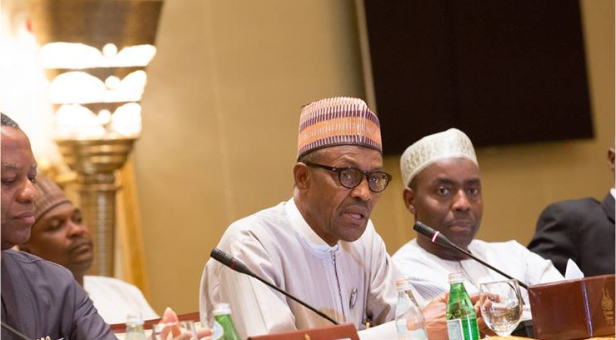 Estimated Reading Time: <1
President Mohammadu Buhari has on Friday directed the Chief of Naval Staff, Rear Admiral Ibok-Ete Ekwe Ibas to deal ruthlessly with the Niger Delta Avengers, NDA and other militant groups responsible for the incessant explosion of oil pipelines and gas installations in the coastal region.
The president stated that his government has decided to curb the increasing wave of militancy more than ever before, saying that it threatens national development.
The president spoke at a meeting with the Global Director (Upstream) of the Royal Dutch Shell Group, Mr. Andrew Brown in his office at the presidential Villa, Abuja. Mr.
Brown had appealed for an urgent solution to rising crime and militancy in the Niger Delta.
In a response to the appeal, President detailed Naval Chief to reorganise and strengthen the military Joint Task Force (JTF) in the Niger Delta for the assignment, assuring the oil companies operating in the Niger Delta of Federal Government protection. He said that all necessary actions would have to be taken to protect strategic assets in the region from vandals and criminals.
The President further told his visitor that the operations of the JTF were also being enhanced by increased support and cooperation from the United States and Europe in the areas of training, intelligence, equipment and logistics.
"We have to be very serious with the situation in the Niger Delta because it threatens the national economy. I assure you that everything possible will be done to protect personnel and oil assets in the region," he said.
A statement by Mallam Shehu, the presidential media aide stated that "the President urged aggrieved persons, militants and communities in the Niger Delta to drop their confrontational stance and work with those who have been charged by the Federal Government to review the Amnesty Programme initiated by the Yar'Adua Administration for the benefit of all parties."
President Buhari also hailed the resilience of Shell and its resolve to continue working in Nigeria despite the operational challenges of the environment. He however urged the company ensure the end of gas-flaring in the Niger Delta quickly and produce more gas for electricity generation to support manufacturing and job creation in the country.
Meanwhile, the Shell Executive has dispelled speculations that the company was pulling out of Nigeria. He said that contrary to such speculations, Shell was currently in discussion with the Nigerian National Petroleum Corporation (NNPC) on new joint oil and gas projects.