Sports Minister Says Unending Leadership Crisis Rocking The NFF "Has Shot Up His Blood Pressure"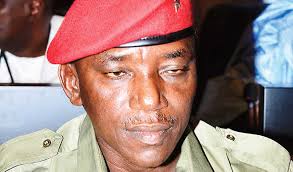 Minister of Youth and Sports Development Solomon Dalung, has lamented the leadership crisis rocking the Nigeria Football Federation, NFF.
Dalung told members of the House of Representatives Committee on Sports in Abuja that the unending crisis has shot up his blood pressure.
"Since the crisis started, my blood pressure (BP) has continued to rise until I got the invitation from the committee before I could sleep very well with a stable BP.
"The summary of the situation is that I am sandwiched between the constitution of the Federal Republic of Nigeria, which I swore to protect and an international statute of FIFA, which we also subscribed to.
"I have consulted widely and spoken to a lot of people to provide insight as to the enormity of what we have on ground.
The minister told the lawmakers that the order of the Jos Federal High Court did not mandate Chris Giwa to takeover as NFF President.
"As a lawyer, I have gone through the judgment meticulously, trying to understand and appreciate what the order is saying.
The minister said the order never directed Giwa to assume duties as the president of the country's football federation, a decision that necessitated the deployment of police to protect the NFF.
He said that the military could be deployed to protect the football secretariat if the police fail in their duty.
"The court made it clear that what it did was to give Giwa the right to come back and present his case; the ruling did not give him power to be the NFF president.
"So, legally, both parties are now in court, while FIFA has fired a warning shot to ban Nigeria if anybody effects the Jos High Court ruling.
"After seeing the situation, I was the one who ordered the police to move and occupy the complex and protect the property since certain forces have been mobilising to occupy the place.
"I moved police in order to protect lives and property and I have consulted widely with so many stakeholders including FIFA for a more advanced advice on how to handle this situation.
"From the sum total of the advices, I concluded on setting up a committee chaired by former chairman of NFF, Alhaji Ibrahim Galadima.
"We also mobilised both lawyers that have served internationally and in FIFA to be part of the committee; however, as I speak to you, the committee has adjourned for one week because of paucity of funds,'' Dalung said.
According to him, the NFF leadership crisis has put him in "the middle of the devil and deep blue sea.
The House Committee on Sports has also invited the Giwa-led faction to appear before it on Tuesday next week to explain its side of the matter.
The Amaju Pinnick-led board of the NFF had stated its side in the leadership crisis alongside the Minister of Youth and Sports.