Omoyele Sowore: Why I Am Opposed To The Fuel Price Increase Or "Deregulation"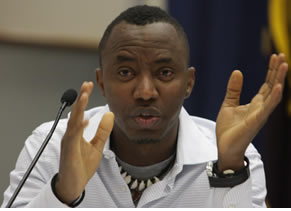 Estimated Reading Time: <1
I have read the reason(s) adduced by the Nigerian government to justify the increase in prices of petroleum products, particularly Gasoline/Petrol/PMS. I was a student activist in the 90's when the military regime tried to convince people why an increase in prices of these commodities was necessary. A ridiculous one I remember the most was the argument that since bottled water was pricier, then petrol prices needed to go up. This was under the IBB regime.
We need not go into the rest, yesterday, the argument for the latest increase in the pump price of petrol was blamed on a range of criminal elements within our society. They included militants, smugglers, hoarders and saboteurs within the government. While the government hasn't increased the price of engaging in these crimes, it is simply callous to pass the same on to the mass of our people who are themselves victims of these highly connected criminals.
Also, you can't deregulate and regulate at the same time. The regulation in the latest deregulation is the fixed cap of N145 above which no marketer is allowed to sell gasoline per liter, however, our recent experience is that these marketers are above the law, the smugglers are above the law, the NNPC fat cats are above the law of the land, and the NPA criminals and demurrage manipulators are also above the law, under the new regime of prices, they will only increase their stakes and profit margins, it is simple law of demand and supply. Whenever they want more profit, they simply create artificial scarcity.
ALL the argument adduced yesterday were canvassed 25 years ago, and they were the same used by Abacha, Obasanjo, Yar'adua, Jonathan and now the Buhari regime.
The most ludicrous are the arguments that the money "saved' from non-payment of subsidies would be applied to develop infrastructure, that's a lie. The government has over N2trillion deficit to overcome, the 2016 budget never included payment of subsidies anyways, so there is nothing to save. I am opposed to any government policy that puts more money in the pockets criminal elements at the expense of the poor. Members of Nigeria's larger-than-life oil cabal are the greatest beneficiaries.
Remember, Kerosene is totally deregulated but you still can't find it in the market because criminals are diverting them away from the masses.
The economic criminals have won again!
___________________________
Article written by Omoyele Sowore, Saharareporters Publisher..
Disclaimer
It is the policy of NewsWireNGR not to endorse or oppose any opinion expressed by a User or Content provided by a User, Contributor, or other independent party. Opinion pieces and contributions are the opinions of the writers only and do not represent the opinions of NewsWireNGR.