"40 Fulani Herdsmen Armed With Sophisticated Guns And Machetes" – Eyewitness Account Of Enugu Bloody Invasion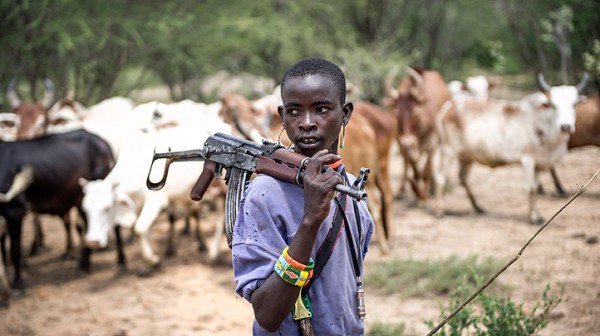 About 40 persons have so far been reportedly killed by some Fulani herdsmen at Nimbo in Uzo- Uwani Local Government Area of Enugu State, sources told Vanguard at Nsukka Police Area Command, near the area yesterday.
The incident took place barely 24 hours after stories filtered out that no fewer than 500 heavily-armed Fulani herdsmen sneaked into the community preparatory to launch an attack. About seven villages in Nimbo (Nimbo Ngwoko, Ugwuijoro, Ekwuru, Ebor, Enugu Nimbo, Umuome and Ugwuachara) were among the areas attacked.
Ten residential houses and a church, Christ Holy Church International, aka Odozi Obodo, were also said to have been burnt by the herdsmen just as vehicles and motorcycles were destroed and domestic animals killed.
A young man, whose name was yet to be ascertained, was burnt inside a commuter bus belonging to one Ejima, son of a prominent man popularly called 'Are you there' near the Christ Holy Church, Nimbo.
A victim's story Kingsley Ezugwu, former Councillor, Nimbo Ward 2, was one of the victims of the attack. Speaking from his hospital bed in Nsukka, Ezugwu said: "I was coming out from the house when I heard the community bell ringing. I was going with a friend to know what the bell was all about, only to see about 40 Fulani herdsmen armed with sophisticated guns and machetes.
"They pursued us, killed my friend and shot at me several times but missed. They caught up with me and used machetes on me until I lost consciousness."
He said one of them later discovered that he was alive and called on the others to finish him off. They ignored him. He said he crawled until a good samaritan helped him to the hospital.
The bodies of those recovered included that of an old man of about 85, and another young man whose throat was slit. One of the victims, who was simply identified as Mr. Ajogwu, father of the former Councillor for Nimbo Ward 1, Sunday Ajogwu, had his left hand severed.
Another one had his stomach ripped open, spilling his intestines.
The Fulani herdsmen had vacated the area with their cattle in the early hours of Saturday, before the attackers, who reportedly came from Nasarawa State, struck.
There had been anxiety in Nimbo following reports that about 500 Fulani herdsmen were assembling to attack the area.
It was gathered that fellow Fulani herdsmen at Adani had, at the weekend, imported about 500 others from Nasarawa State to help them invade Nimbo community on the grounds that some of their cattle were missing in the area.