In An Attempt To Resolve Budget Impasse, Buhari Meets Ken Nnamani And Bello Masari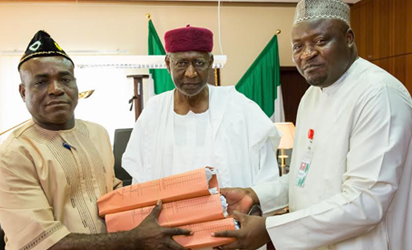 In an obvious attempt to resolve the current budget impasse between the executive and the legislature, two former presiding officers of the National Assembly, Governor Aminu Bello Masari of Katsina State and Senator Ken Nnamani, on Monday, met with President Muhammadu Buhari at the Presidential Villa, Abuja.
Masari and Nnamani, who were Speaker of the House of Representatives and the Senate President respectively, in 2003 and 2007, confirmed to State House corespondents after the closed door meeting that part of the issues discussed with the president was the best way to fashion out cooperation between the two arms of government on the budget matter.
It will be recalled that Buhari had declined to sign the 2016 budget, as he believed that critical aspects of it had been tampered with by the National Assembly.
Fielding questions on the matter, Nnamani said: "The issue on budget; well budget is an area where we practise what we call co-management between the National Assembly and the executive branch of government. Both of them co-manage the economy through the budget its a peculiar area, both of them will have to cooperate and collaborate for a proper budget to be passed and once it is passed, it becomes law.
"So, as it stands today, the situation is such that the National Assembly has to do what is called introspection. How did we get to where we are now? The year is running out and we are still talking about 2016 budget, where is the fault from?
"Wherever it is coming from, both the executive branch and the legislature must find a quick solution to it. It does nobody good to drag it any longer.
"Remember it is an area of co-management, it is not left to the executive alone, it is not left to the National Assembly alone, there has to be collaboration.
"I think he stands to reason, what I suggested is being studied, I think it is appropriate."
The former Senate President expressed the belief that Buhari would study the suggestions put to him.
On his part, the Katsina governor threw his weight behind the president's reluctance to put his signature to what he was not sure of.
Asked if the president could not sign the budget and send a supplementary version to rectify any gray area, Masari said he himself would not sign if he was in the same position as the president.
"You know I am now an executive and I signed budget for Kastina State and before I did that, I made sure I knew what I was signing for. So, take it as I said," he declared.
Speaking on his programme in Katsina State, Masari said his administration was planning to open up the state economy through agriculture and was consequently planning an economic summit.
He said the way to go was to go back to the basics, exploring agriculture and natural resources.
He said: "I said it before and I am saying it again, there was a time Katsina was entirely dependent on its natural resources. Those resources are still there and I believe that we are sensitizing the general public and the world to know that there are lots of opportunities in Katsina.
"And in Katsina, with proper investment, we believe we can make it, we believe we can survive on the natural resources and agriculture and other resources that abound in Nigeria.
"So that is why we have tagged this 'Economic and Development Summit'. But also, we are refocusing to encourage our own local investors. Those who have N100,000 to invest can make more money than leaving the money in the bank.
"Essentially, our focus will be on agriculture and agriculture of selected crops and we are focusing on the natural ginger.
"We are focusing on the area of irrigated agriculture in the area of rice, cotton and other crops.
"We also have gold and diamond in Kastina but what we can lay our hands now is in the area of agriculture."