PDP Gives Condition For Party's Next Presidential Candidate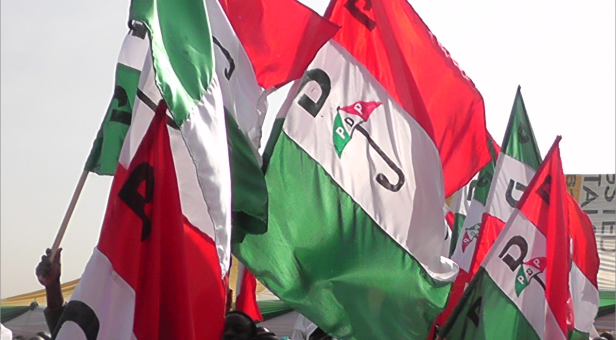 The Peoples Democratic Party (PDP) said it was planning to apply option A4 in electing its candidates for all coming elections, including presidential candidate for 2019 general polls.
It said that if approved by the membership of the party, the application of the method may begin with upcoming congresses of the party.
National Publicity Secretary of the party, Chief Olisa Metuh, disclosed this when he received the former chairman of the National Patriotic Party (NPP) of Ghana, Mr Peter Manu, at the party's national secretariat on Friday in Abuja.
Metuh said that the decision was part of the reforms to reposition the PDP for the 2019 general elections.
He said that the system would not be restricted to presidential election as it would be applicable to others elective positions such as governorship, senatorial, house of representatives and down to the wards.
He explained that with the proposed system, party members would have to queue behind the candidates of their choice.
"We are going to change our system to be that our presidential candidate would be voted for by all party members in the country. It would be at the ward level. "We will no longer elect presidential candidate at the national convention.
It will now be for every party member to vote for whoever would be our presidential candidate. "Whoever would vie for our presidential ticket would have to tour the entire country before he can be elected.
"This is part of the reform we are coming up with.
"Basically, this would be the last convention where we would have people to be elected at the national convention. We are taking the party back to the Nigerian people,'' Metuh said.
He said that the proposed reform was part of Sen. Ike Ekweremadu's committee's recommendations on how to reform and reposition PDP.
He added that the proposed amendments had been sent to the state chapters for their inputs in line with "our desire to have peoples opinion''.
"After their inputs, the recommendation would be sent to the National Executive Committee (NEC) for approval.