University of Port Harcourt Students Have Grounded Academic Activities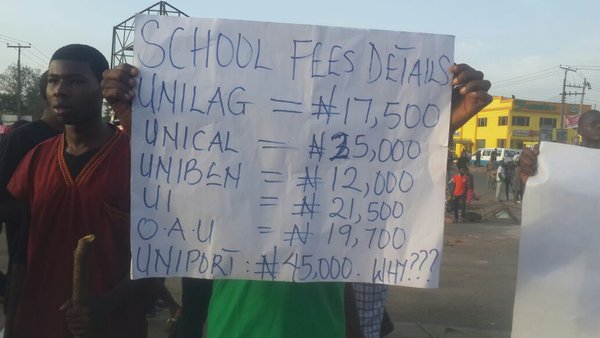 University of Port Harcourt students have grounded academic activities in the institution over a new school fees policy introduced by the management.
The protesting students said they would not accept the school's new policy of no fee no examination, adding that it was a means of mistreating the students.
The students who started protesting around 4:30am had blocked the East-West Road, stopping vehicular and human traffic.
The students said they would continue protesting until they were addressed by the Vice Chancellor of the institution, Prof. Sunday Lale.
As of when this report was filed, no representative from the institution had come to address the protesters.
It was learnt that the school was supposed to commence examinations today.
Only last week, the management of the University of Lagos (UNILAG) ordered that all academic activities on the campus be suspended until the situation on the campus improves.
According to a statement released on Friday, the decision was made at a meeting of the University Senate held on Thursday.
"The Senate of the University of Lagos at an emergency meeting on Thursday, April 7, 2016 considered the situation on campus occasioned by the ongoing agitation of the student body over poor electricity and water supply in the community, and the difficulty faced by a large number of students living off campus to attend classes as a result of the fuel crisis.
"Senate noted that the problem of poor municipal services is a national issue that governments at both State and Federal levels are addressing," the statement read.
UNILAG authorities ordered in the statement that students living on the campus should vacate their halls of residence, adding that no student should remain in the halls of residence after 10:00AM on Friday.
"All academic activities on campus are hereby suspended with immediate effect. The university is therefore closed with immediate effect."
The management said that a decision to re-open for normal academic activities would be taken as soon as 'municipal services improve'.