Another Scandal? Federal Inland Revenue Service Led By Tunde Fowler Secretly Recruited Directors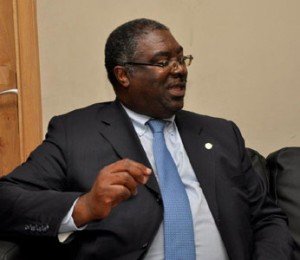 Estimated Reading Time: <1
The Federal Inland Revenue Service (FIRS) recruited five directors secretly at a time its revenue generation dropped by N2.17 trillion in 2015, investigation by DailyTrust Newspapers has shown..
The directors' recruitment was not advertised to enable other eligible Nigerians to apply, an act which is in violation of the federal character principles, sources said.
The situation is now raising dust among staff at the revenue agency who are concerned about the consequences of such development.
President Muhammadu Buhari appointed Tunde Fowler as acting executive chairman of the FIRS in August 20, 2015.
Three of the new directors hail from the south-west region, the same zone as Fowler, the FIRS boss. The other two are from the north-central and north-east, while the north-west, south-east and south-south have none.
Sources within the agency told Daily Trust that there were plans to recruit about 200 more staff even though no advertisement has been made.
The newly appointed directors are: Sola Akingbade (Ekiti), Jimoh I.T.T (Osun), Bimpe Badmus (Lagos), Salihu Baba Alkali (Gombe) and Andrew Ayabam (Benue).
An official document seen by Daily Trust shows that the new directors were appointed as state coordinators thus: Akingbade (Kwara, Ekiti and Ondo), Jimoh (Lagos East, Lagos CGT and stamp duty), Alkali (FCT, Kogi and Nasarawa), Ayabam (Benue, Kaduna and Niger) while Badmus was assigned the special duty portfolio which covers financial, oil and gas, multinational and telecommunication.
"Presently hundreds of resumes have been collected from some selected individuals though their vacancies were never advertised," another source said.
Also, the new FIRS chief had redeployed 13 deputy directors to non-existing training schools last month.
The deputy directors were hitherto heading zonal and regional offices of the FIRS across the country but "they are now made redundant," a source said.
The source said "These training schools were just created on paper. These directors are experienced but they are now reduced to bench warmers in the FIRS headquarters."
Meanwhile, the Federal Character Commission (FCC) said it was investigating the secret recruitment in FIRS.
The acting executive chairman of FCC, Shettima Bukar-Abba said "I am investigating FIRS. I have never seen anything from FIRS since I came in two months ago. But I also learnt they are recruiting."
He said the revenue agency was summoned by the National Assembly because of the same "complaints from the people."
"I am just trying to put in place a committee so that they will carry out the investigation. Once we find out what is happening, we will let you know," Bukar-Abba told Daily Trust.
But the FIRS spokesperson Wahab Gbadamosi said Fowler recruited the directors to assist in the realisation of FIRS' 2016 target of N4.9 trillion.
Gbadamosi said in an emailed response that "the FIRS has not undertaken any recruitment into the service as alleged. Rather, the FIRS executive chairman head hunted about 10 staff – most of whom are contract staff – to assist the service in the realisation of FIRS' 2016 target of N4.9 trillion."
He said that FIRS "will follow requisite rules and procedures in recruiting staff into its workforce."
On redeployment, the FIRS spokesperson said "the posting of experienced directors to FIRS training centres is part of FIRS' capacity building programme, designed to improve the output of its staff nationwide."