Niger State Governor Laments Over The Rising Level Of Street Begging By Northern Women And Children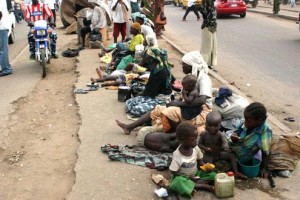 Gov. Abubakar Bello of Niger on Tuesday in Abuja expressed concerned over the rising level of street begging by children and women in the Northern region.
The governor stated this at a two-day Conference on Promoting National Stability Through Constructive Social Relations with Constituted Authority, organised by Zaymar Islamic Research and Development Education Centre.
Bello said that the number of children and women who engaged in street begging portend serious security danger to the next generation and called for deliberate efforts to arrest the situation.
" When you go out of major streets of most cities in Northern Nigeria, the number of children and women you see begging on the streets is alarming and worrisome.
" Most of these children you see on the streets spend long hours begging, and often time sleep on the floor. This is not an acceptable situation for our women and youths. We must find a lasting solution to it," he said.
The governor, represented by his Adviser on Religious Affairs, Alhaji Tanko Ahmad, called for deliberate efforts by all stakeholders in the region to end the menace.
Bello expressed optimism that the outcome of the conference would provide solutions to the socio-economic challenges facing the country and chart a new course for the nation.
The Chief of Naval Staff, Vice Adm. Ibok-Ete Ibas, who spoke, assured that the Navy would continue to protect the nation's maritime environment.
" This we have been doing and will always do through round the clock surveillance of our water ways, protecting of our pipelines against vandals and sustaining the fight against terrorism and all forms of illegalities.
" With these laudable efforts by the Nigerian Navy, the peace and stability of our nation which is the focus of this conference will be enhanced, " Ibas said.
Ibas, represented by Rear Adm. Abdulateef Akintola, the Admiral Superintended Naval Dockyard Limited, Lagos, said constructive dialogue and good counsel to constituted authority was vital in confronting the myriads of challenges facing the country. (NAN)