Fayose Says Buhari Wasted N250m On A Jamboree Economic Retreat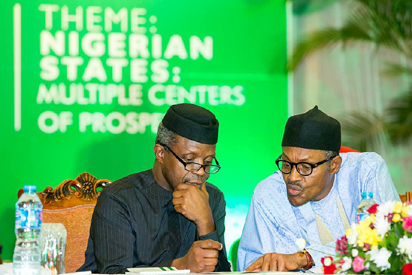 Estimated Reading Time: <1
Governor Ayodele Fayose of Ekiti State, has described the justMconcluded National Economic Council (NEC) retreat convened by President Muhammadu Buhari, as mere jamboree and waste of over N250 million public fund, saying, "the retreat has further exposed that the All Progressives Congress (APC) government of President Buhari lacked economic blueprint as the president is still talking the way he talked while seeking for votes from Nigerians."
President Muhammadu Buhari and Vice President Yemi Osinbajo at the opening of a 2-day National Economic Council Retreat at the Statehouse Conference Centre on 21st March 2016.
The governor said it was funny that the same set of people who as governors, ruined the economy of their States were the resource persons at the retreat, asking; "What solution can the likes of former Governor of Ekiti State, Dr Kayode Fayemi, who as governor plunged the State into unprecedented debt by borrowing money to build governor's lodge, pavilion and uncompleted civic centre proffer to the economy of Nigeria?"
In a statement issued on Friday, by his Special Assistant on PublicMCommunications and New Media, Lere Olayinka, Governor Fayose said "it is strange that close to one year after President Buhari was sworn in, he still cannot tell Nigerians one major economic step his government has taken to salvage the economy.
He has not taken any key step andNthere is no economic team. That is strange! "I was at the retreat and I can tell Nigerians categorically that it was just a jamboree. It was a waste of over N250 million public fund because most of the resource persons were the same people who ran their States aground. "Instead of wasting over N250 million on such a jamboree, it wouldMhave been better if the fund is given to those downtrodden Nigerians, who are trading with as little as N5,000.
"For instance, at N10,000 each, N250 million will go round 25,000 pepper sellers whose capital is not more than N5,000 and that would go a long way in boosting their trade.
"Even most governors, including those of the APC were not happy withMthe economic retreat. Almost everything they proposed was opposed by the Governors.
"Also, the president in presenting himself as APC president alone and,speaking as if he was still canvassing votes and chose the retreat to tell the 22 states governed by the APC to build 250,000 housing units per annum. The question is which state in the present Nigeria can build 10,000 housing units per year?
"To me, the Federal Government appears not ready to face reality. The economic retreat sounds like another talk shop retreat and a clear indication that APC and President Buhari did not have an economic blueprint even when it took two months after winning election for the president to assume office."