Ambode Sacks Head Of Building Control Agency Over Lagos Collapsed Buildings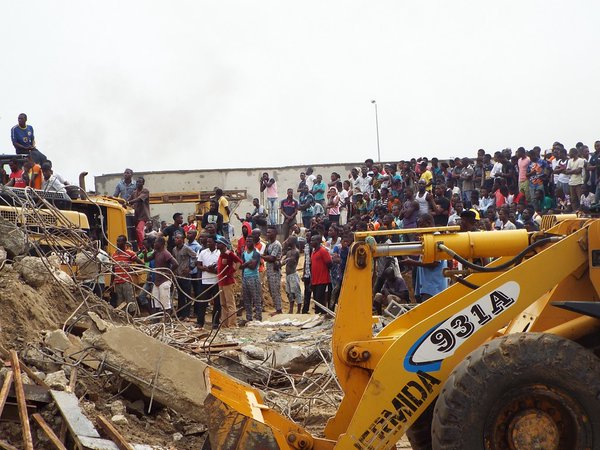 Estimated Reading Time: <1
The Governor of Lagos State, Akinwunmi Ambode, has sacked Adeigbe Olushola, the General Manager of the Lagos State Building Control Agency, over the spate of collapse building in the state.
The action comes a week after a five-storey building collapsed in Lekki, killing 34, according to the National Emergency Management Agency, which had been sealed after it emerged that the building contractors "brazenly violated" an approval to construct a three storey structure.
In a statement issued on Monday by Olabowale Ademola, the Head of Service, ?the Governor also sacked Adeoye Adeyemi, the Head of Inspection and Quality Control in the Agency; Dosunmu Gbadebo, the Zonal District Officer in the Agency, and compulsorily retired Sherifat Akinde, the Zonal Head of Eti-Osa West of LASBCA, from the Civil Service.
"Rule 040401 of the Public Service act of misconduct states inter alia: 'a willful act of omission or general misconduct to the scandal of the pubic or to the prejudice of discipline and proper administration of the State Government' should be visited with dismissal from the Public Service in line with the Public Service Rule 040503," the statement read.
The Head of Service revealed that the disciplinary measure was the outcome of the recommendations of the Personnel Management Board to Mr. Ambode, who was "personally grieved by the high number of fatalities that occurred as a result of the building collapse" having been indicted of negligence.
Mrs. Ademola warned public officials, private building owners or contractors who violate or subvert building regulations that it would no longer be business as usual, saying that the dismissal of the officers would serve as a wake-up call to public servants.
"It is also a clarion call to them to be alive to their responsibilities as any act of negligence will face sanctions, while hardworking officers will be rewarded appropriately," she said.