National Judicial Council Slams Justice Rita Ofili-Ajumogobia, Puts Her On "Watch-List"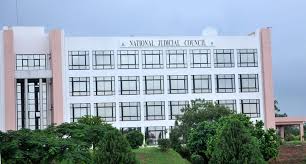 Estimated Reading Time: <1
The National Judicial Council (NJC), chaired by Hon. Justice Mahmud Mohammed has come down with a heavy disciplinary gavel on Justice Rita Ofili-Ajumogobia of the Federal High Court, warning her and putting her on the "Watch-List" of the Council for the next four years.
The judge will also not be considered for any elevation to the Court of Appeal or any Ad-hoc Judicial appointment until she retires from the Bench.
A statement by Soji Oye, the Acting Director of Information [of…], said the decisions were taken at a meeting of the Council held on February 24th and 25th.
The NJC decisions are a sequel to a petition against her by one Victoria Ayeni alleging misconduct and injustice by Justice Ofili-Ajumogobia for failing to deliver judgment in a pre-election suit between Victoria A. A. Ayeni and Olusola Sonuga and 2 Ors.
Justice Ofili-Ajumogobia was the Judge who set free former Aviation Minister Femi Fani-Kayode over the corruption charges against him in a case before her.
It would be recalled that last July, Justice Ofili-Ajumogobia discharged and acquitted Fani-Kayode of all the corruption charges against him. In her dismissal of the charges, she described the prosecution's case as "feeble", arguing that it had failed to provide "copious evidence" linking Fani-Kayode with money laundering.
The decision of the NJC on Hon. Justice Ofili-Ajumogobia is with immediate effect.