Ayodele Fayose Sacks Inland Revenue Boss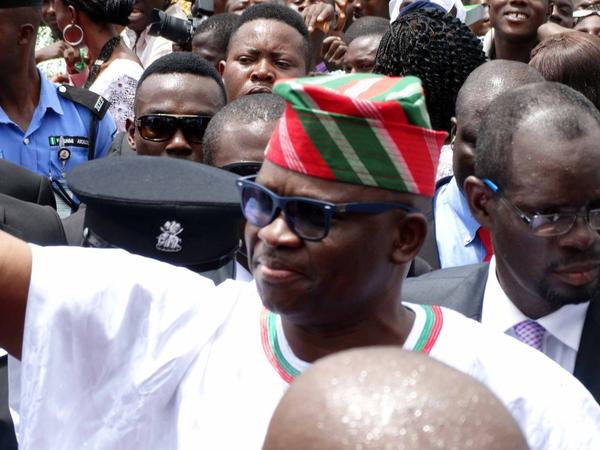 The Ekiti State Governor, Ayodele Fayose, has relieved the Chairman of the State Internal Revenue Board, Ropo Ogunjobi, of his duties for negligence leading to an alleged fraud running into millions of Naira.
Two other officials of the board were on Thursday arrested by the police in connection with the alleged fraud.
The two suspected racketeers allegedly forged the receipts meant for the newly introduced fee for Tipper Trucks' Haulage.
The suspects, Mr. Omotayo Ojo, an official of the revenue board and a printer, Mr. Akinniyi Akinsola, have reportedly made confessional statements to the police upon interrogation, indicting some other members of staff. Ojo reportedly confessed to have made N250, 000 from the fraud with the backing of some senior officials of the board.
He reportedly said he had printed 10 booklets of receipts with which he had been defrauding the government by collecting N500 rate per trip from tipper truck owners.
Although, the amount involved in the scam was not immediately known, sources said it could run into millions of Naira.
The governor warned the people of the state to stop paying money directly to any government official but rather approach the banks for such payments.
The governor, in a statement signed by the Secretary to the State Government, Dr. Modupe Alade, said, "The Revenue Chairman, Ropo Ogunjobi, who also doubles as Special Assistant to the State Governor on Revenue Matters, should hand over to the most senior officer of the board."
Fayose said the arrested duo would be prosecuted to serve as deterrent to others while expressing surprise that workers could still engage in defrauding the state despite the dwindling economic fortunes of the state.
He said, "The people should stop paying to the officials of the board. They should pay to the banks because these touts were on the rampage and they can dupe you. "Ekiti needs money and you all know that this has been the headache of this government and we have been doing our best to shore up the revenue, but these people are desperate to thwart our efforts. They are cornering our money."
Meanwhile, Fayose has told citizens of the state who have attained age 18 and above but have no Permanent Voter Cards that they risk losing their rights and privileges in the state.
He said, "If you don't have your PVC, you may no longer enjoy benefits from government because very soon, about 10,000 people will benefit N10, 000 monthly in our social security scheme."