Militants Vow To Reduce Nigeria's Daily Oil Production To Zero, Promising To Blow-up More Installations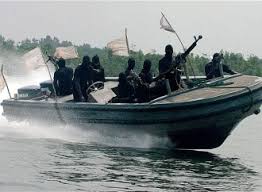 Niger Delta Avengers, the militant group which claimed responsibility for blowing up the Forcados Terminal Pipeline in Delta State, recently, has served notice of attacks on more oil installations in the region until the Federal Government addresses its grievances.
The group vowed: "Shell Petroleum Development Company, SPDC, Forcados terminal is our latest casualty. There are many more to follow in the days and weeks ahead."
The group, in a statement obtained in Warri, said that it was prepared to reduce Nigeria's daily oil production and supply to zero barrel if its agitation was ignored.
"The same factor that brought about the Niger Delta arms struggle is fast resurfacing as the Muhammadu Buhari-led administration is poised to exterminate Niger Delta people for being benevolent enough to allow the nation's mono-economy thrive on our oil.
"We are being oppressed, pushed to the wall on various fronts, which is why we have picked up the challenge to be the outlaws this government will have to contend with till daily production of oil is reduced to zero in the Niger Delta, so government can use the oil from the North to run Nigeria's mono-economy.
"We believe that Nigeria can practice true federalism where our resources will be controlled by us and used for our own good. The reverse is the case today, where the goose that lays the golden egg is killed along with the egg," they said.