Senator Florence Ita-Giwa a.k.a Mama Bakassi Covers Vanguard Allure As She Turns 70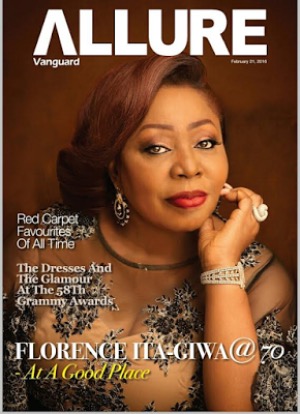 Senator Florence Ita-Giwa covers this week's Vangaurd Allure Magazine where she spoke on life at 70.
In the interview titled 'At A Good Place' the former Special Adviser on National Assembly Matters to then President, Olusegun Obasanjo talks about her new age, her humanitarian services and what it takes to look good at 70.
ta-Giwa was elected a member of the federal House of Representatives 1992-93, and was a member of the committee on devolution of power constituent assembly 1994-95.[2] She became involved in Bakassi affairs, and earned the nickname "Mama Bakassi".
Ita-Giwa was elected Senator for the Cross River South constituency in April 1999 and was appointed to committees on Rules and Procedures, Environment, Foreign Affairs, Women, Niger Delta and Drug & Narcotics.
After leaving the senate in 2003, she joined the People's Democratic Party PDP, and became President Olusegun Obasanjo's Special Adviser on National Assembly Matters.