Oyegun Welcomes Defectors In Calabar And Alleges That APC Is Unfazed By Supreme Court Rulings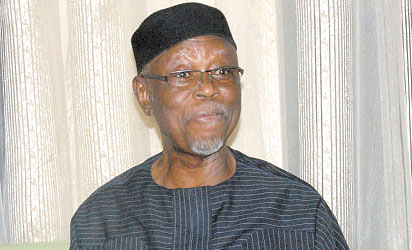 By Chris Nomjov
The ruling All Progressive Congress (APC) is unfazed by the recent judicial pronouncements that have gone the way of main opposition party, the Peoples Democratic Party (PDP). National Chairman,  John Odigie-Oyegun disclosed this in Cross River State, while receiving new defectees to the party.
Chief Oyegun said that the APC is not worried about the Supreme Court's ruling in favour of the PDP governorship candidates in Akwa Ibom and Rivers states. The Chairman remarked that his party only wants to know the reasons behind the ruling, and the general outcry could be attributed as the opinion of APC's individual members and is not the party's official stand.
In what remains a controversial ruling, the Supreme Court had recently ruled in favour of governors Nyesom Wike and Udom Emmanuel who were the PDP candidates in the 2015 governorship elections in Rivers and Akwa Ibom states respectively. This was after both elections had been faulted at the Election Tribunal and Appeal Courts.
Odigie-Oyegun, was speaking at the Margaret Ekpo International Airport in Calabar, as he arrived Cross River State. He is in the state to welcome the former PDP and Labour Party members who defected to the APC.
The defectors included a former senate leader, Chief Victor Ndoma-Egba, Senator Bassey Otu, a former PDP governorship aspirant, Mr. Goddy Jedy-Agba, Mr. Paul Adah, Chief Fidelis Ugbo, Ambassador Sunny Abang. Odigie-Oyegun expressed his confidence that new APC members would usher in the desired change in the politics of Cross River State.
Cross River State has since the return to democracy been ruled by the Peoples Democratic Party and is only recently being receptive to any political party or interest.