Opinion: NDA Cadets, The Military And Citizen Sunday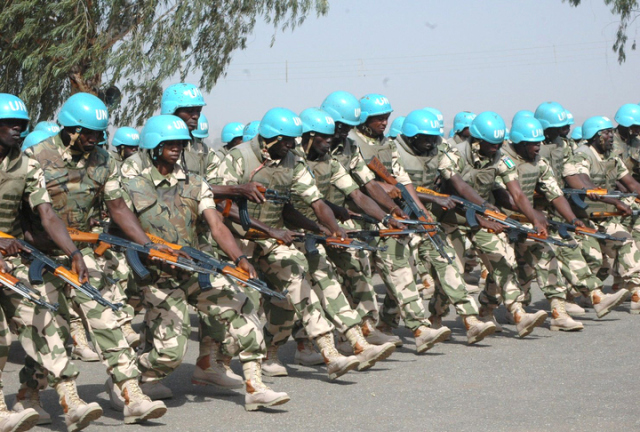 By Godwin Onyeacholem
The memory of a widely transmitted gory video of a gang of iniquitous cadets of the Kaduna-based Nigerian Defence Academy (NDA) literally tearing a young man apart will not fade away as long as Nigeria exists. Indeed, in the narrative of recurrent, systematic brutalization of Nigerians by men and women who wear the varying assorted uniforms and emblems of state coercion, the assault on 25-year-old citizen Sunday Amari at Jabi Lake Park in Abuja on December 31, 2014 will rank as one of the most despicable in its scale of barbarity. Even for the unemotional, this is a classic horror scene bound to induce goose pimples.
Yet, it is not hard to explain why this level of descent to bestial maltreatment of our fellow citizens by these uniformed felons would continue to offend our sensibilities week in week out, without as much as a whimper from those who lay claim to being the custodians of the security and welfare of the people, the ruling party that is waving the banner of change, the civil society, and worse, from bodies like the Nigerian Bar Association (NBA) and the National Human Rights Commission (NHRC) which ought to be on the front line of outrage as a result of such persistent physical and psychological torture of the people.
It is simply because Nigeria – in spite of loud sentiments to the contrary – remains an unformed entity, a stone-age jungle of perversity with very weak antennae of sympathetic response, and where rules of behaviour are defined only by the crude philosophy of might is right. Anyone with connections to the misruling elite will commit any crime and get away with it.
It is this indulgent culture of arbitrariness that gave birth to the tyranny of the military and other similarly kitted personnel, so much so that anyone wrapped under these uniforms sees himself/herself as superior to others who are engaged in civilian jobs. And that is the biggest problem with these uniformed persons, especially the Armed Forces, and particularly the Army. They believe that apart from them, Nigeria has nothing else. Or, something like without them, there can never be a Nigeria.
Clearly, this type of silly arrogance is what motivated nine NDA cadets (seven males and two females) to pounce on an innocent citizen, a parks and recreation officer going about his legitimate duties at the Park. The encounter was like one of those scenes from the NatGeo channels where a pride of lions suddenly cornered a zebra and began tearing it left, right and centre. Sunday was mercilessly beaten only for the reason of being an onlooker in an earlier assault which the cadets had perpetrated on another citizen.
A female cadet, convinced that Sunday would walk from the scene only to tell people what he had witnessed, beckoned him and demobilized him instantly with a staccato of slaps. As Sunday reeled on the ground clutching his head protectively, other cadets joined in the shameless frenzy of savagery, repeatedly kicking and slapping and horsewhipping. By the time they were done, the poor fellow was already soaked in his own blood. Nothing advertises man's inhumanity to a fellow citizen other than this nauseating picture of cruelty.
To further rub salt on Sunday's wound and the society's injury, the NDA reacted by telling a most unconscionable lie. It said the incident happened at some location in Lagos when the cadets were on break, and that it was investigating. Meanwhile, truth is that NDA is investigating nada. NDA knows that the Nigerian public is a docile, mumu public. It knows that nothing will happen even if it decided not to cough out a word. Surely, it only decided to put out a response as way of, as they say, fulfilling all righteousness.
Indication that the institution is not remorseful in any sense, and therefore not investigating anything concerning the incident is its failure to respond to an email from Saharareporters requesting identities of these twisted cadets, as well as come on Channels TV following Sunday's appearance, not just to empathise with the victim but also to apologise to him and the nation while promising that such ugly misconduct from its cadets would be met with stiff punishment now and in the future.
Elsewhere, even in less endowed countries, what happened to Sunday would have ignited protests across state capitals and spurred a serious review of the role of the civil-military relations directorate of the entire Armed Forces. But it's not happening here – an emphatic sign that our society is terribly sick. In any case, what is the job of the civil-military relations department of the Army? How does it respond in the face unwarranted, frequent brutal assaults of innocent citizens by its soldiers and officers? Does it ever teach its officers and men the meaning of citizenship?
I think the answer is No. My take is that the department is a cosmetic office set up to give the impression that the military is working hard to ensure a smooth relationship between it and non-combatant citizens. And if it's truly working, why does its impact on the society tend to be more negative than positive?
It is obvious that these brazen brutalities continue to happen because, clearly, there are no sanctions. Officers and men of the military sustained by the tax paid by the toiling masses will practically murder harmless citizens every so often, and then nothing happens. At a social gathering a couple of days ago, some army officers were overheard telling a group of listeners that nothing would ever happen to the cadets who tortured Sunday. They are very right. After all, there are many Sundays that have suffered all kinds of unimaginable abuse under the jackboots of the military without getting the benefit of a mention in the media.
So, no one should be deceived. All that talk about our military being a disciplined institution is balderdash because from all indication discipline is not demonstrated in their everyday conduct. What you get, in the end, is a military bursting at the seams with impunity and heavily laden at the top with corruption. This unwholesome, putrid mix is the definite make-up of Nigeria's military.
However, the NDA will do well to heed this advice: the cadets who pummelled Sunday that fateful evening should be fished out and sent packing. It is in the best interest of this country that those twisted souls are not allowed to pursue a career in the military.
____________________________
Godwin Onyeacholem is a journalist; he can be reached on gonyeacholem @gmail.com
Disclaimer
It is the policy of NewsWireNGR not to endorse or oppose any opinion expressed by a User or Content provided by a User, Contributor, or other independent party. Opinion pieces and contributions are the opinions of the writers only and do not represent the opinions of NewsWireNGR.