'Buhari, The Criminality Of It' – Charles Novia Writes On The Presidents London Gaffes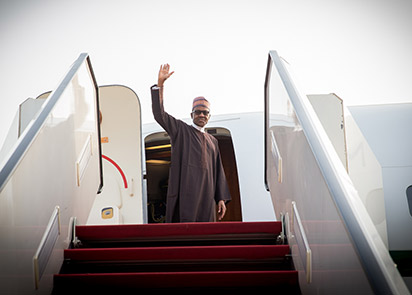 Estimated Reading Time: <1
It's looking like each time President Buhari travels out of the country, he falls into a certain mood which makes him 'yarn opata'.
And the phrase 'yarn opata' is a derivative from a deep old Bendel State slang which means talking out of turn, for want of a polite way to explain it.
The telegraph UK and a few other London Newpapers reported that President Buhari termed his citizens seeking for asylum and immigration succour 'criminals'. He called Nigerians criminals.
I don't care how he meant it or what he meant to say (as his media handlers would rush to clarify later as well as his befuddled supporters who would drink piss if Buhari says they should) but this is the most tactless angle in demarketing his country. It's a shame.
Citizens have a right to asylum in whichever country they chose. If President Buhari had not joined those who truncated our democracy in 1984 through a military coup and thereon plunged Nigeria into a political chaos of dictatorship and tribal superiority in government as well as a directionless regime back then, God knows that Nigeria's democratic process would have been far ahead and stabilised by now.
Yes. I have to say it.
No matter what was going wrong in the second republic ( and there wasn't really anything wrong back then which the democratic progression could not have corrected by itself) it didn't warrant a coup.
It is on record that it was during Buhari's time as a Head of State in 1984, that the first economic exodus from Nigeria started in huge numbers. The economy was so bad then that people started seeking asylum in Britain and America. The government was alarmed by the exodus so much that they started a mass campaign using the popular 'Andrew' as a face of their campaign. And with a deja vu happening in Buhari's second coming, it's only a matter of time before people decide to check out once more.
Anyone who says Buhari was telling the truth in London needs to have his head examined. You go to a foreign country asking for help and then you destroy the morale of your citizens by calling your citizens criminals. The dude is good in dropping diplomatic clangers.
What he has said seeks to overshadow the contributions of Nigerian immigrants to the socio-economic advancement of those countries. Making a sweeping and suspiciously parochial statement such as President Buhari did is the height of 'yarning opata'.
Mercifully, the furious responses by Nigerians from all walks of life to that tactless statement, shows that there are still people with sense and self-worth who are not blinded by the subterfuge of a chained change.
_____________________________
-Article written by Charles Novia
Disclaimer
It is the policy of NewsWireNGR not to endorse or oppose any opinion expressed by a User or Content provided by a User, Contributor, or other independent party. Opinion pieces and contributions are the opinions of the writers only and do not represent the opinions of NewsWireNGR.