Attahiru Bafarawa Says 90% of Nigerians Are Corrupt; Insists That APC & PDP Are The Same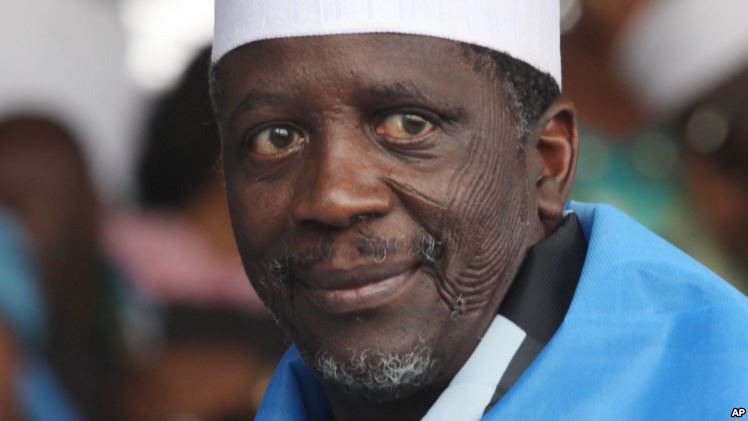 Two-term governor of Sokoto State, Alhaji Attahiru Bafarawa, was among the top politicians who were recently questioned by the EFCC for collecting money from the office of the NSA. But unlike others who are angry over their invitation by the anti-graft agency, the former governor in this interview with Vanguard Newspaper says he holds no grudge against the government for fighting corruption. Bafarawa asks all Nigerians to team up with President Muhammadu Buhari to stamp out corruption from the polity so as to give Nigerians a new lease of life.
Why are you talking about fighting corruption after being arrested and detained by EFCC along with some other top politicians over money-related matters?
Well, from my analysis, corruption in Nigeria is not a thing that one man can fight. I believe fighting corruption is the responsibility of every Nigerian. Don't forget that I served for eight years from 1999 – 2007, I served for eight years. When we took over from the military in 1999 the crude oil was $9 per barrel and in 2007 it had gotten up to $30 – $40 and then we left a lot of legacies in our various states during that period. When I left office, I left behind N12 billion in the treasury. You can see the fortune that came the way of the nation between 2007 and 2015 when the price of oil rose to over $100 per barrel. One begins to wonder why those who enjoyed the huge oil revenue should be asking for bailout from the Federal Government.
I can say that I left behind legacies that generations yet unborn will be very proud of. We had a good leader, Chief Olusegun Obasanjo, who was committed to fighting corruption and he created many institutions like the EFCC and the ICPC to handle the job. Whatever name you want to give him; whether he did it for fighting corruption or for witch-hunting, at least, it assisted in fighting corruption. He laid a foundation, he realised there was corruption and he fought it. After he left, his successors -YarÁdua and Jonathan-did not do much to fight corruption and that exacerbated the monster in the land.
Today, one can say that up to 90 percent of Nigerians are corrupt because when you go to the grassroots level, that is where corruption starts. The electorate will demand money before they elect you into office no matter how good you are, no matter the kind of ideology you have and intend to bring for their own good. If you don't give them money, they would not support you. The game is that anyone who comes and shares money to them gets the support and nothing more.
Is that why you are supporting Buhari's anti-corruption war?
Certainly. My support for him stems from the fact that it is a blessing for Nigerians that Buhari's administration is fighting corruption. We shouldn't see it as Buhari fighting corruption but something that all of us must join and ensure that it succeeds because Buhari can't do it alone. It would also be dangerous if we ignore the fight against corruption because it will swallow the country.
As I have said earlier when a huge amount of about $100 a barrel for crude oil is spent and all the money vanishes and government has to bail states out it shows clearly that something has gone wrong somewhere. Giving that bailout to state without the federal Government investigating what they did with their huge oil earnings was a bit hasty. I would have expected the President to raise a committee to probe how the states incurred their debts and how they arrived at seeking bailout and how they want to use the bailout funds.
For this administration to succeed in fighting corruption, the government must involve not just the EFCC and ICPC but also other Nigerians. The government must open an office for public awareness for fighting corruption.
Special office should be open to campaign for the common man to see the dangers of corruption. We have to consider preventive measures before prosecuting those who are corrupt. We must adopt the two methods if we must succeed. Nigeria is in serious problem because it appears to me that loan which the Obasanjo's administration managed to pay up, we are going back to incur more debts for the nation. We seem to be back to square one by borrowing, borrowing and borrowing and heading to nowhere. No matter what we are talking about, we will not succeed if we don't fight corruption. I want Nigerians to take the fight against corruption as a project and not just Buhari's.
Let's take it as a collective project otherwise we will continue to sink and our children who are not yet born will not forgive us. In 2012 when Jonathan wanted to remove fuel subsidy, Nigerians came out and protested but he had seen it coming that was why he decided to remove subsidy but it wasn't supported by Nigerians. More than four years later, people have seen the need to do so. If oil subsidy had been removed when Jonathan wanted to do so, President Buhari would have gotten an easy ride to continue.
If we don't help Buhari to fight corruption, the person who will succeed him will have many issues to contend with and the nation would suffer the more for it. I believe we don't have any country than Nigeria and we have to tell ourselves the truth about the situation of this country. It is only in Nigeria that you will see a person looking for government office for them to amass public funds for their own selfish interest. It is only in Nigeria that when a man who had no house gets into public office and in few months after taking over office, he can afford to buy over the whole community because of illicit public funds.