Yahaya Bello, Broke Down During His Inaugural Speech While Recalling The Sacrifices Made By His Mother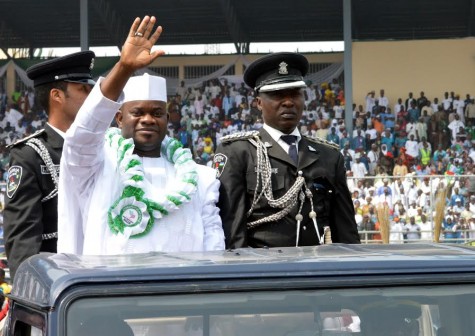 Estimated Reading Time: <1
Newly inaugurated governor of Kogi State, Alhaji Yahaya Bello, broke down during his inaugural speech while recalling the sacrifices made by his mother in raising him.
Bello, who was inaugurated on Tuesday in a colourful ceremony at the Confluence Stadium in Lokoja, the state capital, started his inaugural address by expressing gratitude to God and those who aided him on his journey to becoming governor.
"I stand here today, a grateful man; I am to the Almighty God the eternal one, who led a young boy, fatherless, to this very day of my swearing in as governor," he said.
Punch reports that the new governor, who thanked his late father who died while he was very young for leaving a positive legacy, was overcome with emotions when it came to his mother, Hajiya Hauwa Bello.
Struggling to hold back tears and keep his voice steady he said, "Despite the anguish of young widowhood, your values steadied me through the turbulence of youth and my years of self-discovery."
The governor also praised the late Abubakar Audu for his contributions to the development of the state and the party and promised to lead efforts to immortalise the late politician, whose death gave him the opportunity to become governor.
Bello, 40, is the youngest governor of the state and the first person from the Ibira tribe to govern the state.