Chevron To Shut Down Operations, Workers Airlifted As Niger Delta Militants Resume At The Creeks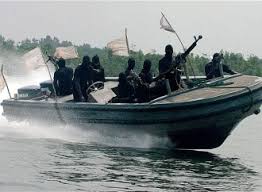 Estimated Reading Time: <1
The Niger Delta region moved closer to armed hostilities, following more attacks on oil facilities by youths believed to be alleged supporters of ex-militant Government Ekpemupolo (alias Tompolo) as President Buhari vows to deal with the oil thieves .

It was learnt that the attacks could spread to Bayelsa and other states of the region within days, as the perpetrators plan to cripple crude oil production and export.

There were indications that some operations of Chevron Nigeria were disrupted in the latest attacks and the company is planning to shut down its operations. Major assets of Chevron and other indigenous oil firms in the Niger Delta were hit in the weekend attacks.
The company was forced to airlift its workers on Friday after militants blocked the waterways and restricted movement of transport boats, including Chevron's Jascon transport boat.
Although the Joint Task Force in the Niger Delta was said to be fully prepared to deal with the onslaughts, the militants operated unhindered for several hours yesterday.
It was learnt that the gas line from Olero creeks to Escravos were hit. The main crude line from Makaraba through Otunana, Abiteye and others were also reportedly put out of operation by the hoodlums.
Meanwhile, the Nigerian National Petroleum Corporation (NNPC) has announced the "operational shutdown" of the Port Harcourt and Kaduna refineries, owing to crude supply challenges arising from recent attacks on vital crude oil pipelines.
According to Ohi Alegbe, group general manager of the corporation, who released a statement to announce the move, the plants were shut simultaneously on Sunday after the Bonny-Okrika crude supply line to the Port Harcourt Refinery and the Escravos-Warri crude supply line to the Kaduna Refinery suffered breaches.
He stated that before the closure, the Port Harcourt Refinery was recording a daily PMS yield of over 4.1 million litres while Kaduna Refinery was posting a daily petrol production of about 1.3 million litres.
"The Warri Refining and Petrochemicals Company, WRPC is still on stream and producing a little above 1.4 million Litres of petrol per day," the statement said. However, NNPC assured that it had "put in place strategies to guarantee unimpeded country-wide availability of petroleum products".
"In response to the unexpected setback, we have activated comprehensive remedial measures to sustain the prevailing stability in the supply and distribution of petroleum products across the country," NNPC added.