Saatah Nubari: Budget Analysis, Focus On The Federal Ministry Of Defence #SaatahBudgetSeries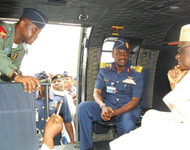 Estimated Reading Time: <1
This is the second piece in the #SaatahBudgetSeries. In the first piece, I analysed the budget for the Presidency and brought to your attention areas I felt would be of interest to you. Today, I'll be analysing the budget for the Federal Ministry of Defence. Bearing in mind that Nigeria can be said to be in a state of war; with the Boko Haram sect, Fulani Herdsmen and what looks like a resurgent Niger Delta militancy on the horizon, this budget is expected to be solid on all fronts…but what if it isn't? That's what we'll find out in this piece.
FEDERAL MINISTRY OF DEFENCE
Just like the first piece in this series, I'll start this piece by enlightening the reader on the different agencies that fall under the Ministry of Defence, so as not to confuse, be misunderstood or misinterpreted.
The Ministry of Defence has the following agencies under it: Federal Ministry of Defence—Main MOD, Defence Headquarters, Nigerian Army, Nigerian Navy, Nigerian Airforce, Nigerian Defence Academy (NDA), Nigerian Defence College, Command and Staff College, Nigerian Armed Forces Resettlement Centre, Defence Industries Corporation of Nigeria, Defence Intelligence School, Defence Missions, Military Pensions Board.
"Fellow Nigerians" the total budget for the Federal Ministry of Defence is 429,098,182,742; 294,525,795,702 is set aside for Recurrent Expenditure while 134,572,387,040 is devoted to Capital Expenditure. Now that you know what your government has budgeted for the defence of this country, let's breakdown and analyse what these monies will be spent on.
Firstly, the Ministry of Defence (Main MOD) with a total budget of 35,658,668,199 puts 33,233,363 as the amount spent, or to be spent in preparing their budget. This same Ministry has budgeted 208,435,078 for the "Construction/Provision of Sporting Facilities". Well, this might not look like much, but let's compare with the Nigerian Football Federation that has 35,975,000 as its budget for "Purchase of Sporting and Gaming Equipment". You know what the National Institute for Sports will spend on the "Purchase of Sporting/Gaming Equipment"? They'll spend 4,349,992. There might be a good reason why that huge amount is budgeted for sports under the Ministry of Defence Main MOD. I'll leave that up to you to figure out.
Going through this budget is both traumatic and funny at the same time. There are some items and comparisons that'll keep you in a state of shock for a very long time to come. One of these items is the "Utility General: Electricity charges, PHCN Outstanding Debt and Claim for Loss/Damages on Forceful Closure of 269 Shops at Giwa Barracks Lagos in 2007" with 11,874,938,540 budgeted for it. This might not catch your eye at first, but even if it does, it is not likely to make you ireful. But here is something for you to compare with: the Ministry of Labour and Employment has a TOTAL budget of 13,397,589,915, just two billion more than what is budgeted for the item stated above and oh! Lest I forget, the Ministry of Women Affairs has a TOTAL budget of 3,974,395,038! Annoyed yet?
One thing I do not understand is the duplicated budgeting done for some items. For example, the Ministry of Defence budgets 700,000,000 for the "Rehabilitation/Repairs of Military/Defence Barracks" while provision was made for that same item under the Defence Headquarters budget, with 522,905,760 allocated to it. The Nigerian Army on the other hand budgets 732,293,425 for the same item. The authorities will do well to clarify this.
The Nigerian Defence College will build an "Admin Block (Phase 1)" and they have budgeted 5,859,799,493, almost double the entire budget for the Ministry of Women Affairs for it. The Nigerian Defence College also plans to spend 743,529,672 for the "Establishment of Fire Stations at NDC HQ, Permanent Site & Ushafa Mil Camp". For perspective and comparative analysis, the Federal Fire Service budgets 749,943,030 for "Rehabilitation/Repairs—Fire Fighting Stations".
The Defence Intelligence Agency will spend the sum of 1,012,000,000 to "Reconfigure Helicopter". They also plan to spend 880,680,000 to purchase "trucks", 336,000,000 for "Buses", 73,000,000 for "Bullion Van & Ambulance" and the funny one? 350,000,000 for "Motor Vehicles". The Defence Intelligence Agency isn't done spending actually; they'll also use the sum of 526,183,948 to "Repair/Rehabilitate" "6X2 Bedrooms". In the budget for the Ministry of Housing, 85,592,483 will be used to "Construct a Block of 3 Classrooms". Now how many classrooms can we construct and equip with the amount the Defence Intelligence Agency plans to spend in the "Repairs/Rehabilitation of 6X2 Bedrooms"? 6 newly constructed blocks of 3 classrooms can be added to our education system with that same amount. You do not get my point yet? Well, I can't help you for now. Let's move ahead.
One of the most annoying parts of the budget for the Ministry of Defence can be found under the Defence Mission. With a total allocation of 11,255,262,684, where 4,845,855,066 is meant for "Capital Expenditure" guess what? 4,651,145,158 will be spent by the Defence Mission on the "Purchase of Residential Buildings".
We have come to the end of the second part of my series on the budget. What I noticed from the budget of the Ministry of Defence is that, there are so many vague items with huge sums appended to them. It can easily be a conduit for corrupt dealings.
As you make your own deductions from this piece, and as you anticipate the next part of this series, I'll leave you with something to get you thinking: 531,887,675, that's what the Ministry of Power/Housing/Works will spend on the "Attendance of Statutory & International Meetings on Housing & Development". Now compare that to the 701,166,070 the President and Commander in Chief of the Armed Forces will spend on his international travels for 2016. Have a wonderful day!
________________________
Saatah Nubari is on Twitter @Saatah
Disclaimer
It is the policy of NewsWireNGR not to endorse or oppose any opinion expressed by a User or Content provided by a User, Contributor, or other independent party. Opinion pieces and contributions are the opinions of the writers only and do not represent the opinions of NewsWireNGR.