Buhari Orders Journalists Out Of "Bring Back Our Girls" Meeting, Drops Mic & Walks Out On Parents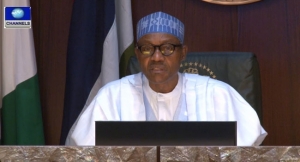 Estimated Reading Time: <1
Journalists were on Thursday prevented from witnessing a meeting President Muhammadu Buhari had with parents of the abducted Chibok schoolgirls and members of the Bring Back Our Girls, BBOG, campaign group.
The President through his Senior Special Assistant on Media and Publicity, Mallam Garba Shehu, told newsmen who were already at the banquet hall venue of the meeting in the Aso Rock Presidential Villa to go out on the ground that "sensitive issues" were to be discussed.
When PMB @NGRPresident had finished he let go of the mike and it dropped with a small bang on the table. He stood up and strode away

— Aisha Yesufu (@AishaYesufu) January 15, 2016
PMB @NGRPresident walked out of the Banquet Hall with no glance at parents shell shocked . No empathy. No connection. Just coldness

— Aisha Yesufu (@AishaYesufu) January 15, 2016
PMB @NGRPresident was upset and ended up being defensive instead of being in charge and reassuring and for the first time I saw an old man

— Aisha Yesufu (@AishaYesufu) January 15, 2016
Did I tell you not only were Press people sent out but also that our members were stopped from writing? @MKabrik would verify that

— Aisha Yesufu (@AishaYesufu) January 15, 2016
PMB @NGRPresident kept talking about the fact that #ChibokGirls were abducted in the last administration

— Aisha Yesufu (@AishaYesufu) January 15, 2016
The President, who was said to have been at a meeting when the protesting parents and BBOG members arrived, sent a delegation led by the Minister of Women Affairs, Senator Aisha Alhassan, as his representative to them. The group had refused to leave when told that President Buhari would not be meeting with them.
The Chibok girls' sympathizers stood their ground on seeing the President, who had on July 8, 2015 promised to rescue the abducted schoolgirls. Their insistence attracted to them the government delegation that also included the National Security Adviser, Mohammed Monguno; Minister of Defence, Mohammed Dan Ali and Chief of Defence Staff, Gabriel Olonishakin.
Mrs. Alhassan, in her remarks, faulted the Chibok parents and the BBOG members for giving government a short notice of their coming, adding that Buhari was meeting with President Boni Yayi of Benin Republic at the time of their protest.
But former Minister of Education and leader of the group, Dr. Oby Ezekwesili responded by telling the minister that she has not being fair to them, stressing that "I don't understand why you can be chiding the parents and the movement. These parents were triggered by the words of the president who promised to rescue their daughters."
It was at this point that Shehu interrupted by announcing that the president would now meet the protesters. However, when Buhari eventually made it to the meeting, journalists were ordered to go out.