Lai Mohammed Says Beneficiaries Of Corruption Are Those Funding Boko Haram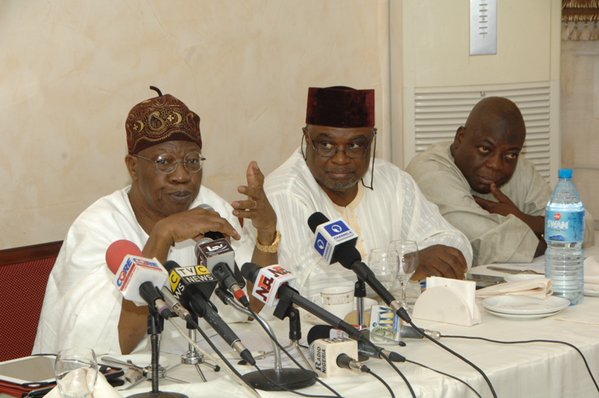 Estimated Reading Time: <1
The Minister of Information and Culture, Alh. Lai Mohammed has alleged that beneficiaries of corruption 'who did not want the nation to be at peace' were behind the funding of the Boko Haram.
He said that the Insurgency is being funded from 'proceeds of corruption'
Speaking to the various broadcast organizations, he said that the media should be patriotic, saying they 'cannot afford to be neutral at this time.' He said the Nation is presently at war and that the press should take the country's side. He said 'the war against terror is our war, not the military's war.'
Alhaji Lai Mohammed disclosed this at a meeting with the Broadcasting Organisations of Nigeria (BON) in Abuja Friday, during his visit to enlist support for the new attitudinal change programme was tagged "Change Begins With Me"
He further explained that another campaign against corruption would also be unveiled shortly after the commencement of the "Change Begins With Me'' programme.
The minister said the essence of the campaign was to educate Nigerians on the need to support the military which, according to him, had availed itself creditably in the battle.
It was also aimed at alerting the citizenry to the need to be more security conscious, to be able to identify Improvised Explosive Devices (IEDs), the weapon of choice deployed by the Jihadi terrorists.
Another reason was for the campaign is that Nigerians be able to identify suicide bombers before they are able to strike since "they live amongst us".
Mohammed explained that the messages will be produced in various local languages to make them more potent.
"We believe that the change we so desire must start with each and every one of us, if it is to endure. The change must also come from within the heart, rather than being forced," the minister stated.
On a request by one of the BON members that the government should assist them in protecting broadcast installations, the minister said he would reach out to the Inspector General of Police, to provide security to all broadcasting premises and facilities nationwide.