Shiite Leader May Have Been Killed, Confusion, Anger Over Fate Of Zakzaky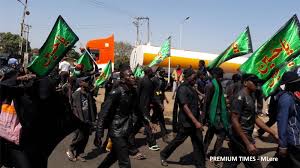 Supporters of a Shiite Muslim cleric in Nigeria are calling for his release, more than three weeks after he was arrested by the military during a bloody crackdown on his group.
The military and police have assured followers of Ibrahim Zakzaky, who heads the pro-Iranian Islamic Movement of Nigeria (IMN), that he is alive and well.
But nothing has been heard from him since he was arrested with his wife on December 13, fuelling fears about his health and the potential for a new security threat Nigeria could do without, reports Agence France-Presse.
Human Rights Watch have claimed soldiers killed "at least 300" IMN members in the raid in the ancient city of Zaria, in the northern state of Kaduna that began the previous day.
Three of Zakzaky's sons, his deputy, the group's spokesman and head of security were reportedly among those who died when troops tried to reach the cleric's house.
Nigeria's military, who alleged IMN members tried to "assassinate" chief of army staff General Tukur Yusuf Buratai, dismissed the claimed death toll, calling it "unsubstantiated".
Diplomatically, Iran is watching events closely and has voiced its concern about the situation while there were protests outside the West African country's embassy in Tehran.
– 'Deceit, conspiracy'? –
Contradictory statements from Nigeria's security services on Zakzaky's whereabouts have added to the uncertainty and sparked anger among his followers.
Buratai himself said on December 17 that Zakzaky had been transferred to "the relevant authorities for prosecution", according to local media reports.
Federal police chief Solomon Arase then confirmed he was in police custody but was waiting for "orders from above" about the next move.
With Zakzaky reportedly shot four times and gravely injured, rumours swirled the police were buying time to allow him to recuperate, fearing a backlash if he was seen in poor health.
On December 29, federal police spokeswoman Olabisi Kolawole was quoted as telling one newspaper Zakzaky had been charged with "criminal conspiracy and inciting public disturbances".
"He has been remanded in prison custody and the case adjourned," Kolawole was quoted as telling The Punch daily.
But Kaduna prison chief Abubakar Argungu said the next day: "We only have 191 followers of the Shiite sect in our custody. But we do not have their leader, Ibrahim El-Zakzaky, with us."
Kolawole on Tuesday this week was more circumspect: "All I can tell you is that El-Zakzaky is safe, secure and very fine; he is doing well.
"But I can't tell you where he is being kept or whether he is with us or not."
On Monday the IMN, whom Nigeria's President Muhammadu Buhari has accused of trying to create "a state within a state", voiced frustration at Zakzaky's continued detention and the confusion.
"So, whom should we believe? This smacks of deceit, conspiracy and outright manipulation," the group said in a statement.
"We are highly agitated by this seeming needless incommunicado the sheikh has been placed in."
– Defuse tensions –
Members of Nigeria's lower chamber of parliament the House of Representatives met IMN representatives last month and were told Zakzaky's release would end the stand-off with the military.
Abubakar Sadiq Mohammed, a political science professor at Ahmadu Bello University in Zaria, said such an intervention was important to allay fears in the minority Shiite community.
"It is not in the interest of Nigeria for the Shiites to be alienated. Engagement is very important because it will give them a sense of belonging and help mellow their tempers," he told AFP.
Abdullahi Bawa Wase, a security expert, recalled the death in custody of Mohammed Yusuf in 2009 after the military moved against his Sunni group, Boko Haram, in the northeastern city of Maiduguri.
The crackdown, in which some 800 Boko Haram members were killed, is seen as the start of the insurgency that has since claimed at least 17,000 lives and left more than 2.6 million homeless.
"The risk is that if Zakzaky dies it will be seen as murder…which will lead to spontaneous protests by his followers and more bloodshed in quelling it," he said.