APC Hails Buhari's 2016 Budget That Seeks To Borrow N1.84tn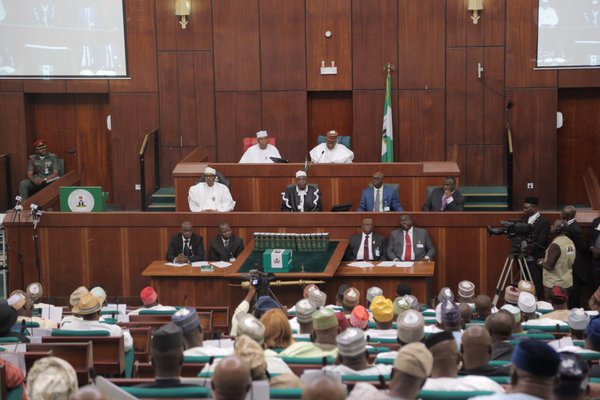 President Muhammadu Buhari on Tuesday presented the 2016 budget proposals of N6.08tn to the joint session of the National Assembly with a commitment that the Federal Government planned to finance the deficit of N2.22tn by borrowing N1.84tn from domestic and foreign sources.
The total budget size of N6.08tn is slightly higher than the N6.04tn contained in the 2016-2018 Medium Term Expenditure Framework, which the President had earlier submitted to the legislature.
Buhari put the revenue projection for the year at N3.86tn, adding that over the medium-term, the government was expecting increased revenues and reduction in overheads to bring the fiscal deficit down to 1.3 per cent of the Gross Domestic Product by 2018.
The All Progressives Congress (APC) has ?assured Nigerians that President Muhammadu Buhari will fulfill his campaign promises to the Nigerians, beginning with the 2016 budget.
Reacting to the 2016 budget presentation by the President, the APC National Chairman, Chief John Odigie-Oyegun said the present administration's pro-people policies will be implemented full blast in 2016.
He said: "In fulfillment of APC's election promises to the Nigerian electorate, the party welcomes the proposed Social Welfare Programmes contained in the proposed 2016 National Budget submitted to the National Assembly. President Buhari has proposed N500 billion to pay unemployed Nigerian graduates (post-NYSC grant) and feed school children, amongst other social welfare programmes in 2016.
"A phased Social Welfare Programme created to cater for a larger population of the poorest and most vulnerable Nigerians upon the evidence of children's enrolment in school and evidence of immunization has also been proposed to the National Assembly.
"President Buhari has also promised that 500,000 new teachers would be recruited. Compared to the last 16 years of locust, Nigerians are getting a much better deal from the seven-month old APC-led administration. On the strength of these proposals, the future holds more dividends of democracy for Nigerians.
"It is reassuring that the federal government has recovered huge sums from looters of our common wealth, which will be injected into the 2016 National Budget."
While calling for the speedy passage of the budget, the APC said "as the National Assembly considers the proposed 2016 National Budget, the APC calls on members of the Senate and House of Representatives to rise above political, regional and ethnic sentiments and pass the proposed 2016 budget which is pro-people and in the overall best interest on Nigeria.
?"The APC hails the very cordial working relationship between the 8th National Assembly and the executive arm of government, specifically the President."
Oyegun said by personally presenting the budget, President Buhari has demonstrated his commitment to Nigeria's constitutional democracy and the dictate of the rule of law and also highlighted the importance of building a smooth working relationship with the National Assembly.