El-Rufai Says Shiite Leader El-Zakzaky Will Pay For Crimes Committed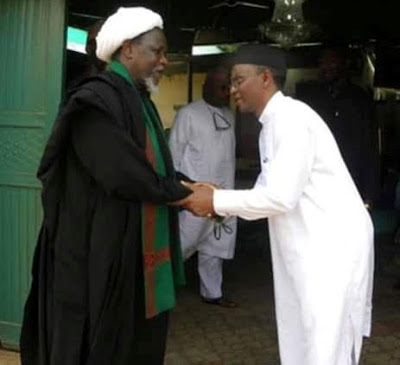 Estimated Reading Time: <1
Kaduna State Governor, Nasir El-Rufai, says Shiite leader, Sheikh El-Zakzaky will pay for crimes he may have committed. He said this yesterday after the Northern States Governors Forum (NSGF), meeting in the state. [Pictured with the Shiite Leader is El-rufai when the going was good with the two]
He told reporters; "The leader of the movement is in custody, he will be prosecuted for any crimes that he may have committed. But that is the decision for the federal authorities. There are state and federal crimes. There is a government and a constitution and we are resolved to follow the constitution and due process." he said.
Read below….Communique of the emergency meeting of Northern States Governors' Forum held on Saturday, 19 December, 2015 at General Hassan Usman Katsina House, Kawo-Kaduna.
The Northern States Governors' Forum (NSGF) convened an emergency meeting to collectively discuss security challenges in the region, particularly as it relates to the recent fracas between a detachment of the Nigerian Army and Shiites followers in Zaria. It noted that the unfortunate incident, though local, has the potential to degenerate into a sub-national and national security challenge.
The Governors of the Northern States were worried by the situation and resolved to support Kaduna State Government in its effort to address the situation; and to review the situation as it pertains to their States.
The Forum received brief on the recent Shiite incident in Zaria by the Governor of Kaduna State, Malam Nasir Ahmad El-Rufai. Thereafter, issues inherent in the presentation were exhaustively discussed.
The Forum offered its condolences to the Kaduna State Government and the families of all those who lost their lives in the tragedy and wished the wounded speedy recovery.
The meeting thereafter resolved as follows:-
• The Governors reaffirmed that all Nigerians should respect the law and constituted authority; and that every organization, religious or social should operate within the confines of the law;
• Endorsed all the steps taken so far by the Kaduna State Government to contain the situation;
• Commends and supports the Governor of Kaduna for the decision to constitute a Judicial Commission of Inquiry to examine the remote and immediate cause of the Zaria incident;
• Reassure citizens of its readiness to maintain law and order while respecting the constitutional rights of citizens to practice their faith in a manner devoid of infringing the rights of others;
• Frowned at arbitrary blockage of high ways through unauthorized processions causing inconveniences to citizens. The Northern Governors, therefore, resolved that henceforth processions must necessarily be with police permit and protection as prescribed by the law;
• Reaffirmed their commitment to take measures to revive and grow the economies of Northern States to create jobs and other opportunities, efforts already in top gear to review agriculture and industries related to agriculture;
• Called on all Nigerians irrespective of differences in political affiliations, religious persuasions, sectional or ethnic background to coalesce into a single unit and collectively fight our common tragedies of poverty, destitution and illiteracy. The problems confronting us go beyond politics. We should unite to confront our common challenges;
• Appealed to the media to exercise restraint, decorum and avoid inflaming passions or stocking the embers of division and intolerance; and
• Encouraged citizens to report suspicious and concerns to constituted authority.
Hon. Kashim Shettima
Executive Governor of Borno State and Chairman, Northern States Governors' Forum