Senator Shehu Sani Tiffs Governor el-Rufai Again, Berates 'Shameful' Kaduna Music Festival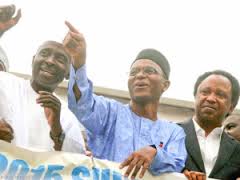 Senator Shehu Sani, representing Kaduna North, has berated the Kaduna State government for an insensitive proposed Kaduna music festival, given the harsh economic climes.
In a statement signed by the outspoken legislator, Sani remarked that amidst the current financial challenges, organising a music fiesta was uncalled for, as the state had competing demands.
The statement further read "The upcoming multi million naira jamboree known as Kaduna music festival stands unreservedly condemned.
"The event is an indecent and immoral proposition and an affront to the people of Kaduna, the North and the whole of Nigeria struggling to survive economic hardships and pervasive insecurity.
"It's shameful, disgraceful, irresponsible and utterly insensitive that at this sorrowful and mournful season of bloodshed and economic difficulties, the Kaduna state government and so called 'banks and the private sector' have jointly decided to feast, make merry and dance on the graves of victims of Boko Haram insurgency in the North.
"It's callous and amounts to insouciance that at a time when thousands of civil servants and pensioners across the nation remained unpaid, multi million naira is about to be wasted in a musical event.
"With over 25 thousand innocent persons killed by insurgents, more thousands abducted and unaccounted for, over two million people displaced from their hamlets, homes, villages and towns in the north, and with soldiers on the frontline fighting and dying to restore peace and order in the north, the musical event is nothing other than playing the fiddle while Rome is on fire.
The Senator further urged the people to boycott the event, while also calling on President Muhammadu Buhari, to reject the invitation to be part of the music fiesta.
"Attending Kaduna Musical festival amounts to canonization of Emperor Nero. I call on President Muhammadu Buhari to reject the invitation to attend the charade called Kaduna Music festival.
"It's a contradiction and morally reprehensible that the same Kaduna State government that declared that it will no longer finance pilgrimage to Saudi and Jerusalem and that it refuses to sponsor Ramadan feeding for the poor and Tafsir, but now have enough money to sponsor and host a musical jamboree," said the senator.
Senator Sani has not hidden his desire to hold the state governor, Nasir el-Rufai accountable, from the onset. It appears this stern rejection of the music fiesta is a testament to the Senator's resolve to reject Governor el-Rufai's alleged 'anti-people' policies.