INEC Returning Officer Faults Nullification of David Mark's Election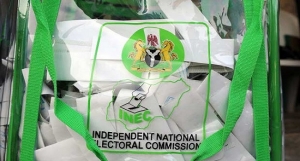 Estimated Reading Time: <1
The Returning Officer of the Independent National Electoral Commission (INEC) in the nullified Benue south senatorial election, Professor Latif Tiamiyu, has insisted that the commission followed due process in declaring the former Senate President, David Mark, the winner of the election.
Mark's election was nullified by the Court of Appeal in Makurdi, on the grounds that the result was announced while collation was ongoing
While faulting the decision of the appellate court, Tiamiyu insisted that the result of the poll was announced after the collation had been completed.
Mark's victory in the March 28, 2015 National Assembly elections was challenged by Daniel Onjeh of the All Progressives Congress (APC) who petitioned the state Legislative Houses Elections Tribunal seeking the cancellation of the election and an order asking INEC to conduct a fresh election in the district.
The Justice Mosunmola Dipeolu-led trial panel had on October 7, 2015 dismissed Onjeh's petition on the grounds that the evidence tendered before the tribunal was documentary hearsay.
However, in a unanimous judgement read by Justice Peter Ige, the appellate court dismissed the judgement of the tribunal and upheld the plea of the appellant that Mark's election failed substantially to meet with the provisions of paragraphs 39 and 40 of the INEC approved electoral guidelines and sections 73and 74 of the Electoral Act 2010 as amended.
Justice Ige thus held: The appellant showed by oral evidence that collation of results were still ongoing in seven local government areas of the district when the result was declared.
"The judgement of Justice Mosunmola Dipeolu led tribunal of October 7, 2015 dismissing the petition is nullified. Therefore the election of Senator David Mark is hereby set aside.
"INEC by this judgement is to conduct fresh senatorial election in the Benue South district within 90 days."
Speaking in a telephone interview yesterday in Makurdi, Prof. Tiamiyu contended that the claim was untrue and unfounded.
The university don insisted that he strictly applied himself to the provisions of the necessary laws as the Returning Officer of the Benue South senatorial election.
Tiamiyu who said he was ready to defend his role in that election at any fora said: "The senatorial election result of Benue South district was announced by me after the collation of the results in the nine local government areas that make up the district.
"The contention that results were announced while collation was still going on is not correct, I never announced the results while collation was still going on. That didn't happen.
"All the results from the nine local government areas were completely collated before I announced the results. I have an integrity to protect so I am ready to defend that at anytime," Tiamiyu added.