Buhari Jets To South Africa, 28-man Advance Team Consisting, Nurse, Cook, Bodyguards, Already In Johannesburg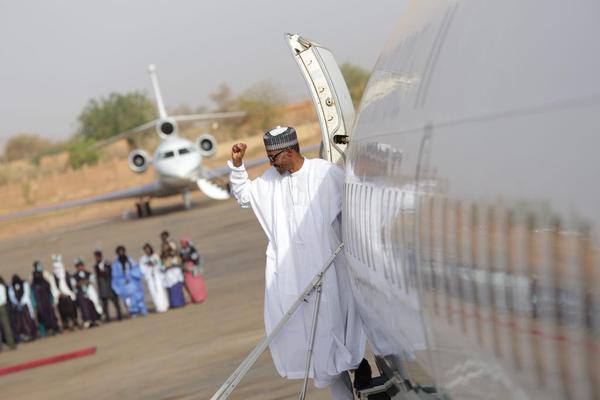 Estimated Reading Time: <1
President Buhari will leave for South Africa tomorrow December 3rd to participate in the Forum on China/Africa Cooperation (FOCAC). A statement issued by the Special Assistant to the President on Media and Publicity, Garba Shehu, says that during the forum Buhari will have a meeting with Chinese president, Xi Jinping, on how to re-commence stalled rail projects under new terms that would see China providing nearly all the financing required.
Buhari will be jetting out to Johannesburg, South Africa to attend the "Africa-China Forum", hot on the heels of trips to Iran and Malta.
The Johannesburg trip has been billed for December 4-5.  28-man advance team consisting a Medical Doctor, Nurse, Cook, Bodyguards, Reporters & Protocol Officers already in Johannesburg.
This comes as his countrymen back home grope in the dark as power from the grid has all but disappeared in homes, perennial petrol queues have brought back memories of previous administrations and the quality of life of the average Nigerian hasn't improved significantly since May 29.
The statement in part reads, "Of particular interest is the coastal railway project stretching for 1,402 kilometres linking Lagos in the west with Calabar in the South; a project that is expected to be financed with $12 billion Chinese loan and which will create about 200,000 jobs. Another rail project that will be up for renegotiation is the $8.3bn Lagos-Kano standard gauge modernisation project, of which only a segment, Kaduna-Abuja, had reached completion stage. President Buhari is also expected to discuss ways of removing all obstacles in the way of the 3,050 MW Mambila Power Station, considered a strategic project which was conceived in 1982 but has not taken off. The Chinese president had informed President Buhari of the willingness of his country to finance the whole project through a special loan agreement," the statement said.
Those to accompany him on the trip are Minister of Foreign Affairs, Geoffrey Onyema; Minister of Transportation, Chubuike Amaechi; and the Minister of Industry, Trade and Investment, Okechukwu Enelamah. They are expected back to the country on Saturday December 5th.