Buhari Launches 2016 Armed Forces Remembrance Emblem With A Donation Of N10 Million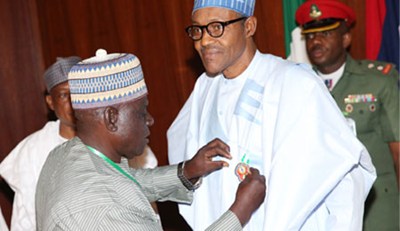 President Muhammadu Buhari monday in Abuja said Nigerians and visitors to the country might be required to wear the 2016 Armed Forces Remembrance Emblem as pass for entry into all government establishments.
Buhar stated this at the launch of the 2016 Armed Forces Remembrance Emblem at the Council Chamber of the Presidential Villa in Abuja.
He said the practice was necessary to recognise the feats recorded by the nation's living and fallen heroes in keeping the country together since independence.
He announced a donation of N10 million in support of the cause.
The president said Nigeria owed her survival as a country to the efforts of veterans, saying the country had weathered through many storms which ordinarily should have prompted a disintegration.
The ceremony was witnessed by the Vice-President, Prof. Yemi Osinbajo; former Head of the Interim National Government, Chief Ernest Shonekan; Speaker of the House of Representatives, Yakubu Dogara; and Chief Justice of Nigeria, Justice Mahmud Mohammed and a host of ministers.
Speaking at the event, Buhari said: "Today's occasion reminds us of the need to appreciate the noble contributions of our fallen heroes who paid the supreme sacrifice to maintain national and international peace and security.
"Our nation has recently celebrated 55 years of political independence and continues to remain as one indivisible entity despite several grievous challenges. Since independence, Nigeria has witnessed a lot of internal strife, survived a civil war and has remained united.