Senators'll Continue To Follow Saraki To CCT – Declares Senator Misau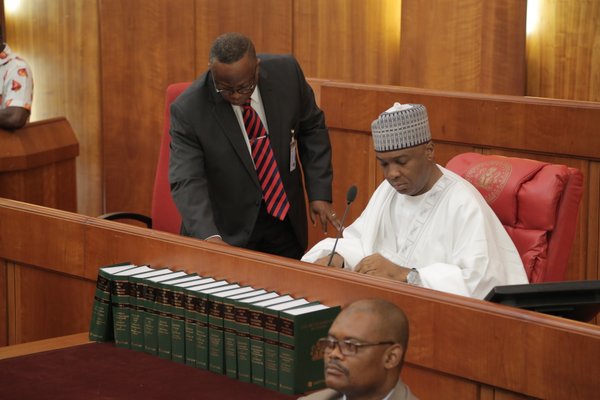 Estimated Reading Time: <1
The All Progressives Congress member representing Bauchi Central in the Senate, Senator Isa Misau, said on Sunday that the Senate would continue to support ?its President, Senator Bukola Saraki, in his current trial at the Code of Conduct Tribunal.
Misau, in a statement in Abuja, explained that members of the Eighth Senate were convinced that the injustice being perpetrated against him at the CCT was because of his emergence against the wishes of some APC chiefs.
Misau said it is obvious that the case against Saraki on the Declaration of Assets was being manipulated.
He also alleged that the trial was a script, written based on mischief and ill-will, being acted in all the courts before whom the matter had been taken.
The senator said, "The impression I am getting is that some people are playing God, believing that they can determine the fate of Saraki and they are using ?the judiciary as instrument of witch-hunt and persecution.
"What is happening is not a war against corruption?. It is a war against Saraki using corrupt means to hound him to submission.
"This means, however, grievous implication for the proposed anti-corruption agenda of the Buhari administration because you cannot successfully prosecute anti-graft war by selectively targeting individuals."
The Senator added that his colleagues who witnessed the proceedings at the tribunal on the three occasions that Saraki appeared before it were convinced that the defendant was only being targeted because he is Senate President.
He said his colleagues also noticed that "the body language from the tribunal chairman clearly shows that he cannot do justice to the defendant in the present case."
He said, "The Senators will continue to support Saraki and even attend the court sessions because of the belief that injustice to one is injustice to all."
He urged those behind the scheme to bring Saraki down to desist as their actions had several implications for the ruling party, the government and the nation.