Senators Allegedly Receive Text Messages To Accompany Bukola Saraki To Tribunal Trial As Assembly Is Shut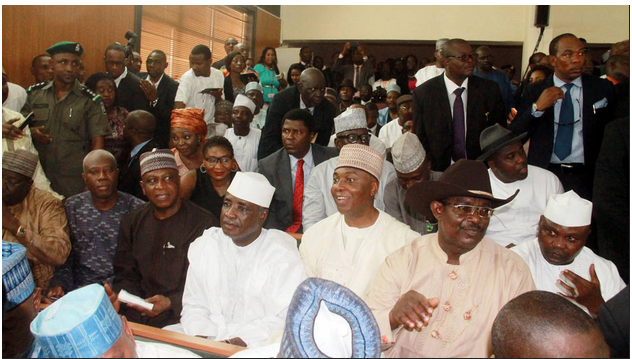 Estimated Reading Time: <1
A text message was allegedly sent out to Senators, prompting them to yet again, escort Senate President, Bukola Saraki, to his trial at the Code of Conduct Tribunal.
Saraki's corruption and false assets declaration trial is expected to resume on Thursday, at the tribunal.
On the last two occasions that Saraki appeared at the tribunal, not less than 50 Senators accompanied him.
Saraki has again shutdown the sitting of the Senate as his case at the Code of Conduct Tribunal (CCT) comes up today.
At the end of yesterday's sitting, Saraki said the sitting has been adjourned to November 10.
In an interview, Senator Dino Melaye said the sitting was adjourned to enable adhoc committees work on their reports.
"The sitting was adjourned to Tuesday to enable four adhoc committees complete their reports and submit next week," he said.
Saharareporters claims to have obtained the copy of the text message sent to senators by a certain 'Arthur', purportedly the Director of Protocol for the Senate President.
The supposed message read: "Gdevenin Distinguishr. Wish to inform dt Buses are available 2moro mrnin to convey Senators wishing to accompany H/E d Senate President. Departure is at 9 am frm d house @ 22 Yesderan Str. by IGP's House Maitama. Regards. -Arthur (dir' of Prot. S/P). +2348077770119."