Senate President Saraki Names 65 Senate Committees [See Complete List]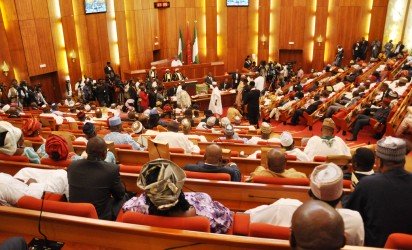 Estimated Reading Time: <1
Senate President, Bukola Saraki, on Wednesday named the chairmen and deputy chairmen of the 65 committees to oversee various ministries, departments and agencies of government.
1.Committee on Rules & Business
Babajide Omoworare
Ali Ndume
2.Senate Services Committee
Ibrahim Gobir
Aliyu Sabi Abdullahi
3.Committee on Ethics & Privileges
Samuel Anyanwu
Bala Ibn Na'allah
4. Committee on Public Accounts
Andy Uba
Gbolahan Dada
5.Committee on National Security & Intelligence
Shaaba Lafiagi
David Jonah Jang
STANDING COMMITTEES
6.Committee on Agriculture
Abdullahi Adamu
Theodore A. Orji
7.Committee on Air Force
Duro Samuel Faseyi
Ali Wakili
8.Committee on Army
George Akume
Ibrahim Abdullahi Danbaba
9.Committee on Anti – Corruption & Financial Crimes
Godfrey Chukwuka Utazi
Sani Mustapha
10.Committee on Appropriations
Danjuma Goje
Sunny Ogbuoji
11.Committee on Aviation
Hope Uzodinma
Bala Ibn Na'allah
12.Committee on Banking, Insurance & Other Financial Institutions
Rafiu Adebayo Ibrahim
Achonu Nneji
13.Committee on Capital Market
Isiaka Adeleke
Ogola Foster
14.Committee on Communications
Gilbert Nnaji
Solomon Adeola Olamilekan
15.Committee on Cooperation & Integration in Africa & NEPAD
Abubakar Sani Danladi
Baba Kaka Garba
16.Committee on Culture & Tourism
Matthew Urhoghide
Abubakar A. M.
17.Committee on Customs, Excise & Tariff
Adamu Aliero
Samuel Anyanwu
18.Committee on Defence
Ahmad Lawan
Jeremiah Useni
19.Committee on Diaspora & Civil Societies
Rose Oko
20.Committee on Drugs & Narcotics
Joshua Lidani
Phillip Gyunka
21.Committee on Downstream Petroleum
Uche Ekwunife
Jibrin Barau
22.Committee on Ecology & Climate Change
Bukar Abba Ibrahim
Achonu Nneji
23.Committee on Education (Basic & Secondary)
Aliyu Wamakko
Rose Oko
24.Committee on Employment, Labour & Productivity
Suleiman Nazif
25.Committee on Environment
Olaka Johnson Nwogu
Oluremi Tinubu
26.Committee on Establishment & Public Service
Emmanuel Paulker
Suleiman Nazif
27.Committee on Committee on Federal Capital Territory
Dino Melaye
Mohammed Hassan
28.Committee on Federal Character & Inter Governmental Affairs
Salihu Hussain Egye
Suleiman Othman Hunkuyi
29.Committee on Finance
John Owan Enoh
Umaru Ibrahim Kurfi
30.Committee on Foreign Affairs
Munsurat Sunmonu
Shehu Sani
31.Committee on Gas
Bassey Albert Akpan
Abubakar Ahmadu Moallahyidi
32.Committee on Health
Lanre Tejuosho
Matthew Uroghdide
33.Committee on Housing
Barnabas Gemade
Francis Alimikhene
34.Committee on I.C.T & Cybercrime
Buhari Abdulfatai
Ogola Foster
35.Committee on Independent National Electoral Commission
Abubakar Kyari
Olusola Adeyeye
36.Committee on Information & National Orientation
Enyinnaya Abaribe
Ibrahim Abdullahi Danbaba
37.Committee on Interior
Georgeb Sekibo
Bayero Usman Nafada
38.Committee on Inter-Parliamentary Affairs
Bayero Usman Nafada
39.Committee on Industry
Sam Egwu
Buhari Abdulfatai
40.Committee on Judiciary Human Rights & Legal Matters
David Umaru
Godswill Akpabio
41.Committee on Land Transport
Olugbenga Ashafa
Phillip Aduda
42.Committee on Local & Foreign Debts
Shehu Sani
Phillip Gyunka
43.Committee on Marine Transport
Ahmed Rufai Sani
Ighoyota Amori
44.Committee on Media & Public Affairs
Aliyu Sabi Abdullahi
Murray Bruce
45.Committee on Public Procurement
Abdulsalami Ohiare
Joshua Dariye
46.Committee on National Identity & National Population
Marafa Kabir
Abubakar Sani Danladi
47.Committee on National Planning & Economic Affairs
Rabiu Musa Kwankwaso
Yele Omogunwa
48.Committee on Navy
Isa Hamma Misau
Osinachukwu Ideozu
49.Committee on Niger Delta
Peter Nwaboshi
Abubakar Abdulrahman
50.Committee on Police Affairs
Abu Ibrahim
Stella Oduah
51.Committee on Power
James Manager
Bukar Mustapha
52.Committee on Primary Health Care & Communicable Diseases
Mao Ohuabunwa
Nelson Efiong
53.Committee on Privatisation
Ben Murray Bruce
Abdullahi Yahaya
54.Committee on Science & Technology
Robert Ajayi Boroffice
Marafi Bashir
55.Committee on Solid Minerals
Joshua Dariye
Rilwan Adesoji
56.Committee on Special Duties
Murtala Nyako
Sunny Ogbuoji
57.Committee on Sports
Obinna Joseph Ogba
Marafa Kabir
58.Committee on States & Local Government
Abdullahi Gumel
Kashamu Buruji
59.Committee on Tertiary Institutions & TETFUND
Binta Masi Garba
Tijjani Yahaya Kaura
60.Committee on Trade & Investment
Fatimat Olufunke Raji Rasaki
Sabo Mohammed
61.Committee on Upstream Petroleum
Donald Omotayo Alaosaodura
Bassey Gershom
62.Committee on Water Resources
Mohammed Ubali Shittu
Emmanuel Bwacha
63.Committee on Women Affairs
Oluremi Tinubu
Stella Oduah
64.Committee on Works
Kabiru Gaya
Clifford Ordia
65.Committee on Poverty Alleviation & Social Welfare
Ali Wakili