PDP Senators Today Reminded Buhari To Fulfil The N5,000 Stipend Promised Unemployed Nigerians During Campaign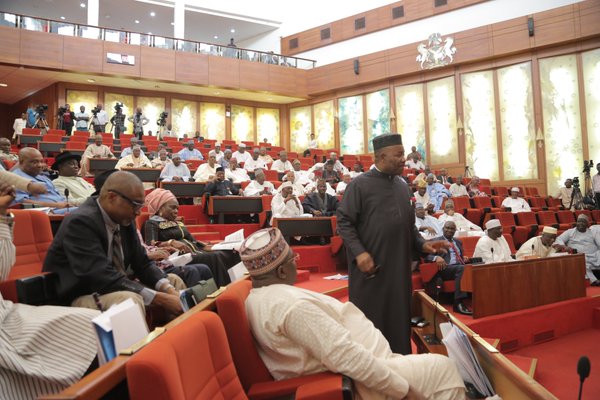 Estimated Reading Time: <1
The Peoples Democratic Party, PDP Senators Wednesday unanimously reminded the All Progressives Congress led government of Muhammadu Buhari to tackle unemployment and fulfil the N5000 promised unemployed Nigerians.
NewsWireNGR recalls that the APC led government during the campaign for the 2015 elections promised that as soon as Nigerians vote Buhari administration into office, the unemployed Nigerians will take home N5000 stipend each amongst other promises by the party.
Deputy Senate President Ike Ekweremadu on Wednesday tacitly attacked president Muhammadu Buhari, over his campaign promises to Nigerians. "The ruling APC government must fulfill their campaign promise of paying unemployed Nigerians a sum of 5,000 Naira monthly," he said.
Ekweramadu said that "construction industries in Nigeria are no longer working and this is an impending revolution in our hands."
Senator Phillip Aduda raises an additional prayer that the Federal Govt should commence immediate payment of N5,000 to the unemployed.

— Nigerian Senate (@NGRSenate) November 4, 2015
Senate President @bukolasaraki recognises Senator @jideomoworare who says the motion by Senator Aduda is not in order!

— Nigerian Senate (@NGRSenate) November 4, 2015
The Senate President allows a Voice Vote on the Motion… the Ayes is Loud; the Nays is as well Low!

— Nigerian Senate (@NGRSenate) November 4, 2015
Other amendments by Senators include that the Federal Govt should urgently tackle the issue of Power Supply & Entrepreneurial development.
The Senator representing Enugu East made this statement inside the Senate Chambers during moves to consider its third motion for the day: Urgent Need to curb the soaring rate of Unemployment in Nigeria.
Senator Urhoghide (Edo South) says employment in Nigeria is a national problem and must be tackled as such. He urged the federal government to lift the ban on employment in its agencies and parastatals.
Sen. Tejuoso (Ogun Central) tasked everyone to be realistic. He spoke about the looming unemployment from Govt., Oil & Telecoms Industries.