Petrol Scarcity Hits Anambra, Port Harcourt Marketers Say Depot Drying Up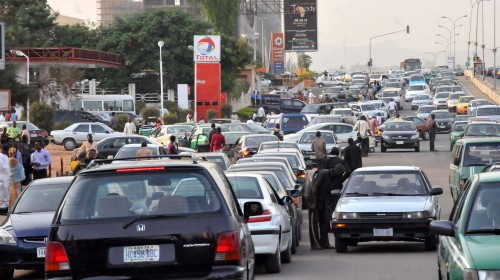 Scarcity of Premium Motor Spirit (PMS), has resurfaced in Awka as its price has gone up to between N110 and N115 in the Anambra State capital and its environs.
According to NAN, most filling stations had "no fuel" sign placed at their gates while a few that had the product had long queues of vehicles.
Rivers State earlier today experienced the same scarcity, with most stations claiming non-supply by Tank farms and depot owners who claimed government is owing them subsidy claims.We understand that the shortage is mainly due to protest by Tank farm and Depot owners over the delay in payment of their subsidy claims
Marketers in Anambra state also said the scarcity was as a result of the non-supply of trucks at fuel depots
Chief Ikechukwu Nwankwo, Chairman of Independent Petroleum Marketers Association of Nigeria (IPMAN), Enugu zone, said loading at Port Harcourt depot was ebbing while lots of trucks were on queue at the Lagos depots where the zone largely depended on.
He said marketers were undergoing difficult times in their efforts to make products available.
"I can confirm to you that there is no PMS now, the pump price increase is only natural because landing cost at the station is now between N95 and N99, the NNPC on its part does not have products.
"Marketers are having problems with funds because most times, government does not remit their part and even when they do, it comes late.
Also, the interests to banks eat up our profits. The government has role to play to ensure we come out of this problem", he said
A motorist, Ndubuisi Okonkwo, who queued at a filling station at Unizik Junction, Awka, told NAN that the increase in pump price of PMS was worsening the bad economic conditions of the masses.
Okonkwo said he had to wait patiently to buy the product as he was not sure of where and when it will be readily available.
Another motorist, who simply identified himself as Donald, said the scarcity was an unfortunate relapse and urged the Federal Government to intervene to save the situation.
"This scarcity, coming when Nigerians are expecting a reduction in official pump price and getting used to the regular price, is uncalled for. The economy is already crunchy and we can't afford another pain", he said.
Mr Benjamin Abimaje, Manager at Femas Service Station, Awka, said there was no product because of "the sudden outrageous increase in loading cost.''
Abimaje said he had applied for product for some days now but the increase in price and scarcity at the depot in Lagos had made it impossible for them to get loaded.
"We do not have fuel. The cost is high at the depot and when you add other charges, it may not land at less than N98.
"It is also biting us because we are not selling, no profit; yet we are incurring loss, we hope it normalises soon", he said.