Ivory Coast's Ouattara Secures Second Term In Landslide Poll Win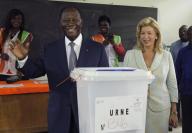 Estimated Reading Time: <1
Ivory Coast's President Alassane Ouattara won a blowout poll victory and a second five-year term in a weekend vote intended to draw a line under years of turmoil and a 2011 civil war, the elections commission announced on Wednesday.
Ouattara won a total of 2,118,229 votes, or 83.66 percent of ballots cast, President of the Independent Electoral Commission (CEI) Youssouf Bakayoko announced at a media conference. Sunday's vote had a turnout of 54.63 percent, he said.
The former International Monetary Fund official, whose leadership has helped the West African nation re-emerge as a rising economic star after the 2011 civil war, faced a deeply divided opposition.
Ouattara won the most votes in all but one of the 31 regions as well as the largest city, Abidjan, and the capital, Yamoussoukro, results showed.
He won all but 16 votes in his home constituency of Kong, in Ivory Coast's north, where more than 14,000 voters cast ballots.
Sunday's election was judged to be peaceful and transparent by observers, likely reassuring investors who have flooded into the world's top cocoa grower, drawn by growth around 9 percent over the past three years.
"I would like to congratulate all Ivorians for their maturity and exemplary behaviour," Ouattara said late on Tuesday before the results were announced.
"Ivory Coast is resolutely committed to the path of stability and the reinforcement of democracy."