Election Tribunal Didn't Sack Me Says Rivers Speaker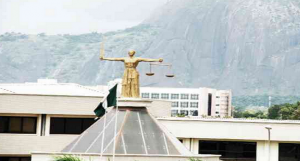 Estimated Reading Time: <1
Ikuinyi Ibani, speaker of the Rivers state house of assembly, has dismissed the ruling of the tribunal sacking him and 20 other lawmakers.
Addressing journalists at the assembly on Tuesday, Ibani alleged bias, but said he had not lost hope in the judiciary "I heard over the news that the speaker and 20 others have been sacked by the election tribunal," he said.
"Rt. Hon. Ikuinyi Owaji Ibani was not sacked by any election petition tribunal, and none of the members were sacked.
"I am still the speaker and the members still remain members of the Rivers state house of assembly. The lower tribunal gave judgment in their opinion. In their judgment, they argued that there should be a rerun within 90days.
"The whole world knows that the election was conducted in the state on April 11. The whole world knows as well that INEC prepared for the election for a long period. Because we have faith in the judiciary system, we have faith in the judges and justices we have in Nigeria, we believe that our case will not be different."
The speaker who pleaded that the same principles of law should apply in all situations round the country wondered why card reader was an issue in the election of governor Nyesom Wike yet it was not in a case on similar election in lagos state.
"We have strong faith in the Nigerian state and its judicial system. We believe as legislators that conscience not placed on the canvass of justice is unconscionable. We believe that the same principles in law should be applied in all circumstance."
Ibani disclosed that he had already appealed the verdict, alleging that politicians from the south-south were being targeted. "It is my plea that wherever we find ourselves as people of Nigeria the Nigerian state should give us justice," he said.
"We did not consult God to create us as Rivers people. We did not consult God to put Rivers where it is today in the map of Nigeria.
"If Ambode in Lagos state has noting with card reader, why should Wike in Rivers have? "I will not want to preempt the judgment of the appellate court. All I can tell you is that I have appealed against the judgment of the lower tribunal."