Lamar Odom Suffers Stroke & His Speech Is Affected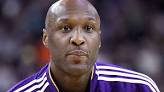 Lamar Odom suffered 12 strokes early on in his medical emergency, TMZ has learned, and they affected his motor skills.
Doctors performed a series of brain scans on Lamar and discovered the strokes. Although the strokes didn't affect vital organs, TMZ was told the stroke did have an impact on his ability to walk and talk.
Lamar's medical team isn't saying if the impairment is permanent. He'll undergo months of physical therapy and doctors don't know the extent to which his motor skills and speech will be restored.
The immediate obstacle right now is Lamar's kidneys, which have failed. He'll continue on dialysis and may need a transplant.