One Thing Is To Screen Amaechi, The Other Thing Is To Be Confirmed – Rivers Senator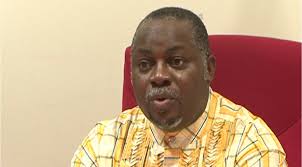 Estimated Reading Time: <1
Senator George Sekibo from Rivers state says that it's one thing to screen Rotimi Amaechi, and it's another thing for to be confirmed by members of the senate, the senator tells the Nigerian Television Authority, NTA.
Senator Sekibo and the two other Peoples Democratic Party senators from Rivers state are against Amaechi's nomination as a minister
"The issue is not either to be screened or not to be screened. The issue is to be confirmed or not to be confirmed. They are two different issues. We cannot stop him from being screened but our plea is already before the senate. I don't want to repeat it, it is before the senate. We have said it before the nation; it is in the court of the Nigerian people. The senators have the power to agree to what they want to agree to and to reject what they want to reject because it is not an individual matter, it's not a personal matter, it's a national matter."he said.
After weeks of high-wired politics and a long waiting game, former Rivers State Governor, Rotimi Amaechi, arrived at the Senate and was screened as a ministerial nominee.
The former governor was top on the list of the order paper released by the Senate.
Senate Minority Leader, Senator Godswill Akpabio had earlier said that the PDP caucus in the Senate had no questions for Amaechi as the caucus had just received reports of the petition written against the former Rivers State Governor and had not had time to study the reports in question.
The Majority Leader, in a swift reaction to that then moved a motion that since the PDP senators had no question for Amaechi, he should be allowed to 'bow and go' on the basis of being a former House Speaker and former Governor.
A brief argument ensued between the two caucuses before the matter was resolved and the screening commenced.