Opinion: The Mallam Nasir El-Rufai's Politics Of Revenge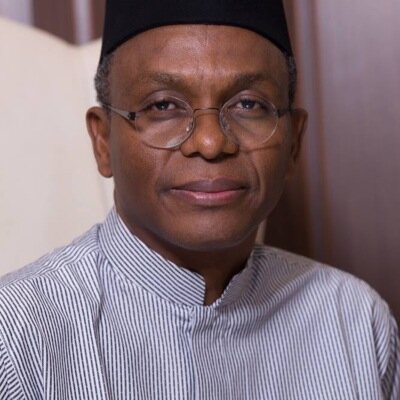 Estimated Reading Time: <1
by Levi Obijiofor
Kaduna State Governor Nasir el-Rufai is in the news again. It is not because he did something particularly uplifting. The governor hit newspaper headlines last weekend because he made an inexcusable outburst that exposed his temperamental nature and demeaned the high office he occupies. It is often said that the true test of maturity is the ability to remain calm in the face of all provocations. El-Rufai failed that basic test last Saturday when he exploded in public at a town hall meeting while answering testing questions about the political appointments he made since his election.
Newspapers reported last Sunday that el-Rufai lost his temper when he was asked uncomfortable questions about the unevenness in the political appointments he made. For clarity, it was not the first time el-Rufai would be criticised for making imbalanced appointments.
At the meeting, an obviously exasperated el-Rufai told critics of his government: "If you are not happy with appointments made, you can go and climb Kufena mountain, fall and die… It was what you voted for that you got, because we are aware that there are people who did not vote for us, in fact, they worked against us. But now they claim to be APC members and loyal to the party. We know such people. And so, there is no way they would expect anything from us."
Such anger. Such explosion of spleen. Such animosity against his critics. Such bitterness expressed in a public domain. El-Rufai's outburst will make for a discourse on power, governance, arrogance, and a culture of entitlement. What is particularly galling about el-Rufai's remarks is the language he used to rebuke his critics, and his suggestion that every governor is entitled to govern anyway he chooses. That is, the notion that a governor has the right to do as he pleases because he is in power and, therefore, entitled to govern with or without the support of the people. That eruption of anger has confirmed public belief that elected officials perceive themselves as tin gods who must be served by the people. They do not subscribe to the idea that elected politicians should see themselves as servants of the people.
Our politicians continue to mock the principles of democracy. Executive power can make people ecstatic. If not managed tactfully and prudently, power can get to the head of the person wielding it. When that happens, it manifests in the form of arrogance and irrational behaviour.
El-Rufai should reflect on the advice that political officials should listen to members of their constituencies. He should talk and reason with the people. He will not succeed as governor if he fails to listen to public opinion. He will not be a successful governor if he listens only to his palace servants who exaggerate his performance. These are the same people who shield the truth from him. In his role as governor, el-Rufai must learn to take the good with the bad.
While el-Rufai's shocking comment might appeal to a few of his gullible and narcissistic admirers, the fact remains that such a remark is unquestionably crude, one-dimensional, and vainglorious. It makes you wonder whether Kaduna State is experiencing politics or war.
When a governor uses simplistic Manichean terms such as "us versus them", "good versus evil", and "heroes versus villains" in a public forum to create unnecessary divisions within the society, you know right away that something is wrong with the governor.
Showing excessive anger and using intemperate language against one's critics is not a trait you associate with a listening governor. El-Rufai's remarks are unacceptable, insensitive, unnecessary, disappointing, and incompatible with the position he occupies. He must be condemned because his comments show he holds the people of Kaduna State in contempt.
To be sure, el-Rufai is not the first governor to be accused of appointing close associates or relatives into government. So, why should he blow hot air over a matter that he could easily have handled with sound logic and clarifications. Here are two good examples.
Governor Akinwunmi Ambode of Lagos State was accused of bias in his political appointments but he did not go out to hit his critics with machetes or cudgels. He handled the criticisms with commendable philosophical calmness. Similarly, President Muhammadu Buhari was heavily criticised for failing to reflect regional balance in the political appointments he made prior to releasing his list of ministerial nominees. Buhari's response to public criticisms was not to tell his critics to go and electrocute or incinerate themselves if they did not like the people he appointed. A president, like a governor, is expected to serve as a role model, even if that is a towering challenge.
Advertisement
In el-Rufai's case, he showed lack of tact, skill and diplomacy in dealing with criticisms. Rather than answer the accusations and questions in a calm, dispassionate and objective manner, he clutched at straws and left his audience wondering whether their "celebrity" governor had suffered a momentary loss of common sense.
In a democracy, citizens have the right to express critical opinions about how they are being governed. They also have the right to criticise decisions made by elected politicians. There is nothing sacred about political leaders that guarantees them immunity from public criticism. Criticisms nourish and advance the political process. Free expression of opinion must be encouraged rather than be gagged because it is a fundamental feature of democracy. By seeking to suppress public opinion about his political appointments, el-Rufai has exposed his character flaw as a despotic governor. There is no place for dictatorship in a genuine democratic society.
An elected state governor should aim to serve all citizens. It is a narrow-minded governor who, in allocating state resources, will discriminate between citizens who reside in districts that voted for them and those who reside in constituencies where the governor did not receive many votes. During his acceptance speech as president, Buhari charmed the nation when he said he would govern for every Nigerian. Everyone cheered. However, it did not last long before Buhari began to show, through his skewed political appointments, what he actually meant. He could not uphold that pledge when he appointed a majority of senior officials of his government from his region of the country.
In fact, during his visit to the United States, Buhari said that people in parts of the country where he received five per cent of the votes should not expect to receive the same level of national attention and resources as people in parts of the country where he received 95 per cent of the votes. That remark was condemned forcefully because it showed that rather than govern for all Nigerians, Buhari was committed to providing national resources to those parts of the country where his party received a majority support. That was patently wrong because allocation of national resources should never be based on regional voting pattern during a presidential election.
Back to el-Rufai and his divisive politics. It is not a mark of maturity for a governor to go about beating his chest, making statements that tend to divide rather than unify the citizens by distinguishing between party supporters and non-supporters of the ruling party based on how people voted during the governorship election in Kaduna State.
El-Rufai's remarks must be seen as offensive, rude, disrespectful, and hypocritical. They are the kind of comments you would expect from a wily old politician who has nothing to offer to the people. It is often said that, in politics, if you want to attract the respect of ordinary people, you must address them politely in the language they understand. Unfortunately, el-Rufai did not use courteous language in his attempt to stifle the opinions of people who did not agree with his political appointments. What el-Rufai conveyed to the people of Kaduna State is that only people who voted for him deserve the ears of the government. He also implied he will not be approachable, considerate, or a sympathetic governor. That is simply politics of retribution. Many people in Kaduna State will now look at el-Rufai differently.
What el-Rufai, the supreme governor, forgot is that political offices are as impermanent as life is transient. Nothing lasts forever. Today, el-Rufai is enjoying all the benefits of the office of governor that he occupies. But all these will not last forever. One day, he will exhaust the maximum term allowed by the constitution or he could be voted out of office. Either way, he will not occupy that position in perpetuity. As an elderly man in my village makes the point to remind everyone all the time, we came into this world empty-handed and we shall also depart one day with nothing in our hands.
__________________________________________
Article written by Levi Obijiofor
Disclaimer
It is the policy of NewsWireNGR not to endorse or oppose any opinion expressed by a User or Content provided by a User, Contributor, or other independent party.
Opinion pieces and contributions are the opinions of the writers only and do not represent the opinions of NewsWireNGR.