Lawyer Petitioning Akpabio Wants Buhari To Sack EFCC Chair For Lack Of Transparency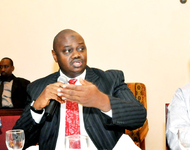 Estimated Reading Time: <1
The investigation into ?allegations of fraud allegedly committed by the Senate Minority Leader, Godswill Akpabio, during his tenure as governor of Akwa-Ibom state between 2003 and 2011 has been questioned with a call for the sack of the Chairman of the EFCC, Ibrahim Lamorde.
An Abuja-based lawyer, Leo Ekpeyong, who petitioned the Economic And Financial Crimes Commission (EFCC) ?on the allegations, on Monday addressed a letter to President Muhammodu Buhari asking that Lamorde be relieved of his duty for lack of transparency.
"We make bold to pass a vote of no confidence on the leadership of the EFCC. Ibrahim Lamorde must resign now to pave way for an efficient but effective and courageous, incorruptible leadership," he said.
Ekpenyong expressed reservation on the investigation processes by the commission.